"HOW TO BRING OUT THE BEST IN OTHERS." (C. VIVIAN STRINGER PART SEVEN)
C. Vivian Stringer is the head coach of the Rutgers University Women's Basketball Team. She is the sixth winningest coach in women's basketball history and was inducted into the Basketball Hall of Fame in 2009. She is the first coach in NCAA history to lead three different women's programs to the NCAA Final Four: Rutgers, University of Iowa, and Cheyney State College in 1982.
Coach Stringer is legendary for getting the best out of her players on and off the court. Her formula is simple:
1. She judges people and sets their expectations based on what she sees as their potential not on what they have done in the past or somebody else's opinion.
2. She makes it clear that they: are starting with a clean slate, what the expectations are and holds them accountable on a consistent basis.
In her fantastic autobiography, Standing Tall, Coach Stringer describes the transformation of Debra Walker, a star on her legendary 1982 Cheney State championship team:
"I remember recruiting Debra Walker. When she graduated from high school, she had an 0.7 grade point average. It wasn't that she couldn't do better, it was that she wouldn't; she wanted to skip class. And there had been some sort of fight on the court when she was in high school, so many coaches thought she was a powder keg.
The first thing I told her was that if she came to play for me, I'd make sure she graduated. When she arrived, I told her, "I don't care what happened in the past; I care only about what you do now. I'm going to take you the way you come to me."
Although she was good, I didn't play her much that first semester because she just wanted to go out there and do what she wanted to do, not what I wanted her to do. It was hard for her.
One day, we were playing Westchester University, and I went into the bathroom before the game. Debra followed me in and slipped a note under the stall door. "Coach," the note said, "I sure would like some PT." I didn't have any idea what she was talking about. PT? What was PT? "Playing time," she explained. "Well, when you address the things that I need, you'll get it. I don't need a scorer; I need someone who can play defense and rebound."
Understand that this whole thing is taking place in the bathroom, me in one stall, Debra in the next. She said, "I can rebound. How many you want?" "Ten is a good average," I told her. "Well, if I can get ten minutes, you've got those ten rebounds," she said—just like that. That girl went in that day and gave me about sixteen rebounds. From that moment on, she led that team. She never looked back. And she graduated with a 3.6 in her major."
How do you bring out the best in others?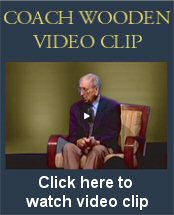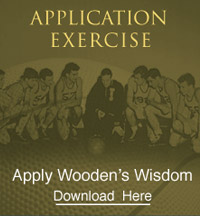 COACH'S FAVORITE POETRY AND PROSE
Compensation
I'd like to think when life is done
That I had filled a needed post.
That here and there I'd paid my fare
With more than idle talk and boast;
That I had taken gifts divine.
The breath of life and manhood fine,
And tried to use them now and then
In service for my fellow men.

I'd hate to think when life is through
That I had lived my round of years
A useless kind, that leaves behind
No record in this vale of tears;
That I had wasted all my days
By treading only selfish ways,
And that this world would be the same
If it had never known my name.

I'd like to think that here and there,
When I am gone, there shall remain
A happier spot that might have not
Existed had I toiled for gain;
That someone's cheery voice and smile
Shall prove that I had been worthwhile;
That I had paid with something fine
My debt to God for life divine.

Edgar Albert Guest (1881-1959)