"CHOOSE FAITH NOT FEAR" (C. VIVIAN STRINGER PART NINE)

C. Vivian Stringer is the head coach of the Rutgers University Women's Basketball Team. She is the sixth winningest coach in women's basketball history and was inducted into the Basketball Hall of Fame in 2009. She is the first coach in NCAA history to lead three different women's programs to the NCAA Final Four Rutgers, University of Iowa, and Cheyney State College in 1982.
One year when she was coaching at Iowa, she was preparing her unranked team to play Texas who was the number one ranked team in the country. In her fantastic autobiography, Standing Tall, Coach Stringer recounts the talk she gave her team inspiring them to "Choose Faith not Fear":
"I told them about the mother who was given superhuman strength to lift a car to save her baby. I told them about the woman who swam the English Channel even though she had no arms. I told them about the man who had broken the mile record, even though he'd been so badly burned as a child that nobody thought he would live, let alone walk—or run. But his mother never gave up on him, just like I'd never give up on this team, just like they could never give up on themselves. "Nobody believes in you. That's why you have to believe in yourselves. Belief is faith in things not yet seen. You can't see the air, but you know it'll be there when you go to take a breath. You don't understand how the sun comes up in the morning, but you know it'll be there tomorrow when you wake up. You have faith that these things will happen, and they do!
The sun shines through a small thing like a bottle, and that focus is enough to start a fire that can light up the world! A finger can't do anything, but we've got the power of the fist, five fingers working as one! As one, we're the most powerful team in the world!" "You see this bumblebee on my lapel? He shouldn't be able to fly—he's too fat to fly. His wings are too small, his body, too big. But nobody told that to the bumblebee, and neither will anybody tell us what we can't do. We will fly."
That day unranked Iowa stunned number one ranked Texas.
Do you choose Faith or Fear?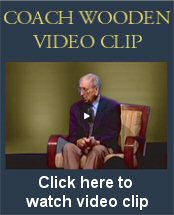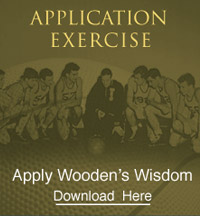 COACH'S FAVORITE POETRY AND PROSE
The Common Joys
These joys are free to all who live
The rich and poor, the great and low:
The charms which kindness has to give,
The smiles which friendship may bestow,
The honor of a well-spent life,
The glory of a purpose true,
High courage in the stress of strife,
And peace when every task is through.
Nor class nor caste nor race nor creed,
Nor greater might can take away
The splendor of an honest deed.
Who nobly serves from day to day
Shall walk the road of life with pride,
With friends who recognize his worth,
For never are these joys denied
Unto the humblest man on earth.

Not all may rise to world-wide fame,
Not all may gather fortune's gold,
Not all life's luxuries may claim;
In differing ways success is told.
But all may know the peace of mind
Which comes from service brave and true;
The poorest man can still be kind,
And nobly live till life is through.

These joys abound for one and all:
The pride of fearing no man's scorn,
Of standing firm, where others fall,
Of bearing well what must be borne.
He that shall do an honest deed
Shall win an honest deed's rewards;
For these, no matter race or creed,
Life unto every man affords.

Edgar Albert Guest (1881-1959)