"WORRY FREE AND PROPERLY FOCUSED PERFORMANCE" (COACH WOODEN 10 FOR 10)

Between 1964 and 1975 Coach Wooden coached five different groups of players in ten National Championship Games. Coach Wooden's teams won all ten games.
Coach Wooden's definition of success is: "Success is peace of mind which is a direct result of self-satisfaction in knowing you made the effort to become the best of which you are capable." This definition was the cornerstone of his competitive approach and communication to his players.
Coach's definition was based on his father teaching him to: "Never try to be better than someone else, but always be learning from others. Never cease trying to be the best you can be. One is under your control, the other isn't." Rafer Johnson, was a UCLA basketball player from 1958-59, and the gold-medal winner in the 1960 Olympics decathlon, described Coach Wooden's communication this way: "Coach Wooden said all he wanted from us individually was that we try as athletes and students, to be as good as we could be."
This constant approach by Coach Wooden eliminated the worry of players being compared to each other or players they were following. Bill Walton did not think he had to be the next Kareem-Abdul Jabbar. Larry Farmer did not feel the pressure of having to be the next Sidney Wicks. Jamaal Wilkes did not think he had to be the next Curtis Rowe. David Meyers did not feel he had to be the next Jamaal Wilkes. Marques Johnson did not feel he had to be the next David Meyers. All these players are in the UCLA Hall of Fame and all of them played on National Championship teams for John Wooden. None of them felt the extra pressure/worry of being compared to someone else or filling some one else's shoes. John Wooden's definition of success and message was different. Be the best version of you.
If we can really teach this approach to our youth in a consistent manner modeled by our own behavior, we could solve many of the mental health / depression issues our youngsters face with the ever-growing trend of people comparing themselves to others on social media.
A salesperson should not be focused on being better than another salesperson or being the number one salesperson in the company. That type of thinking creates unneeded worry that impedes peak performance. Taking it a step further with John Wooden as your coach, you could be the number one salesperson but still not be successful because you had not become the best salesperson you could be.
John Wooden did not allow UCLA to retire uniforms when he coached. He did not want the focus on comparison or the past. He demanded the focus on now and constant improvement for yourself. Every day you could become a little better version of you. John Wooden was always moving forward.
Where is your focus?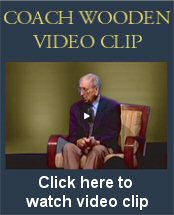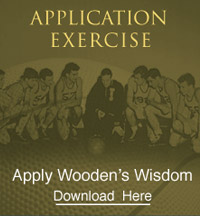 COACH'S FAVORITE POETRY AND PROSE
The Fifty Percent Man
He limped into the place one day, a leg and arm were gone,
'Just half a man,' he told the boss, 'right now you look upon.
An accident did this to me, 'twere better had I died,
It robbed me of efficiency, but left me with my pride.'

The boss said kindly unto him: 'This is a busy place,
It takes two arms and two good legs to hold our daily pace;
It's able-bodied men I need, not crippled men like you.'
'Don't you suppose,' he answered then, 'there's something I can do?'

'Could you not find some sheltered nook where I can fill the day,
Where I can use my one good arm and earn my weekly pay?
Though half of me is stripped away, the other half is proud
And it will do some useful work if only it's allowed.

They've taught me now to use my hand, they've given me a trade,
They've said I need not lose my pride and meekly beg for aid,
But when the bosses look about they never seem to see
A place where they can use a man who's battered up like me.'

Oh, better far that charity, and better for the town,
It is to help the man to rise whom fate has stricken down.
And better for that factory which keeps a job or two
Where speed and strength are not required, which crippled men can do.

Edgar Albert Guest (1881-1959)