"PRIORITIZE YOUR PLANNING PROPERLY"

In Stephen Covey's book on time management "First Things First" he makes the point that no matter what time management system you use or how much you streamline things it will always be close to impossible to get everything done. He says that the key to a happy fulfilling life is prioritizing the important things in your weekly plan.
Coach Wooden's priorities were Faith, Family and Friends. He believed in Moral, Mental and Physical Conditioning and wanted a life full of Love and Balance. He prioritized and scheduled everything accordingly. Here are some examples:
In terms of Faith and Moral conditioning he read the Bible every day, used no profanity, never spoke badly of others, never missed Church, and would not let UCLA schedule a game on a Sunday no matter how big the payday. He actually told UCLA they could schedule the game; he just wouldn't be there to coach the team.
Family for Coach was a priority far ahead of work. After team dinner during the season, he was always home with the love of his life Nellie. Nellie often commented that when John got home, she had no idea how practice went because he always acted the same, a loving attentive Husband and Father. Coach requested as part of his contract that Nellie be taken on all road trips when she was able to go.
My wife Christy was Coaches first granddaughter and Coach went by her house and saw every day the first year of her life, frequently bringing her a new outfit. Our older son John was born in Utah and our younger son Kyle was born in San Rafael. Although Coach lived in Los Angeles and was frequently traveling, he somehow arrived in person at our home within 48 hours of both their births to greet them in person.
His mental condition was razor sharp because he read extensively every day on many topics besides basketball (balance).
He maintained friendship and balance with his teams as well. Practice started everyday at 3 pm but Coach was sitting courtside at 2:30 everyday in case a player needed to talk. Practice never went longer than 5:30 pm, no matter what and his teams only practiced Monday through Friday (five days a week not six). He wanted the players he loved so much to have a balanced life and keep their focus on school first.
The pressure of coaching basketball and getting results never got Coach Wooden to change his priorities or how he scheduled the week for himself or his players. Coach Wooden understood "First Things First": Faith, Family and Friends, Moral, Mental and Physical conditioning surrounded with Love and Balance.
What are the priorities in your time management system and your team's time management system?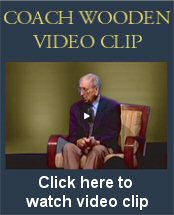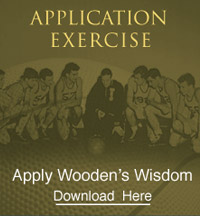 COACH'S FAVORITE POETRY AND PROSE
The Home Builders
The world is filled with bustle and with selfishness and greed,
It is filled with restless people that are dreaming of a deed.
You can read it in their faces; they are dreaming of the day
When they'll come to fame and fortune and put all their cares away.
And I think as I behold them, though it's far indeed they roam,
They will never find contentment save they seek for it at home.
I watch them as they hurry through the surging lines of men,
Spurred to speed by grim ambition, and I know they're dreaming then.
They are weary, sick and footsore, but their goal seems far away,
And it's little they've accomplished at the ending of the day.
It is rest they're vainly seeking, love and laughter in the gloam,
But they'll never come to claim it, save they claim it here at home.
For the peace that is the sweetest isn't born of minted gold,
And the joy that lasts the longest and still lingers when we're old
Is no dim and distant pleasure—it is not to-morrow's prize,
It is not the end of toiling, or the rainbow of our sighs.
It' is every day within us—all the rest is hippodrome—
And the soul that is the gladdest is the soul that builds a home.
They are fools who build for glory! They are fools who pin their hopes
On the come and go of battles or some vessel's slender ropes.
They shall sicken and shall wither and shall never peace attain
Who believe that real contentment only men victorious gain.
For the only happy toilers under earth's majestic dome
Are the ones who find their glories in the little spot called home.

Edgar Albert Guest (1881-1959)