"START AND STOP ON TIME."

Coach Wooden was able to execute his time management plan because he started and stopped everything on time. The Two-hour meetings with his assistants to plan that day's two-hour practice were always 10 AM to 12 noon. No interruptions to the meeting were allowed, except family emergencies. They always started and stopped on time.
Practice started every day at precisely 3 pm and never ended later than 5:30 pm irrespective of "how things were going". Every drill was scheduled to the minute. If Coach Wooden was running a drill that was scheduled for 5 minutes and it wasn't going well, he would not stretch the drill to 7 minutes to fix it. He would stop the drill at exactly 5 minutes while making a note on his practice card. He then might schedule that drill for 10 minutes at the next practice.
In the Coaches Locker room after every practice, the coaching staff recapped their notes about practice that day, with Coach Wooden writing down the results on his 3 x 5 card. Then before Team Dinner, if he had time, and always before going home, Coach Wooden transferred his notes from his 3 x 5 card to his practice binder notebook used for future planning. If Team Dinner started at 6 p.m. Coach was always there by 5:55 pm.
Former President Bill Clinton had scheduled a meeting with Coach Wooden at Coach's condo in Los Angeles. At the last minute, do to circumstances beyond his control, President Clinton had to cancel the meeting. A few weeks later President Clinton's staff phoned Coach Wooden in the morning and advised him that the former president would be in town that day and was eager to meet with Coach. The Secret Service would pick Coach up 11 am and he would meet with Mr. Clinton at noon at the Beverly Hills Hotel.
Coach checked his schedule and said regretfully he would be unable to meet because he already had a meeting scheduled at noon that day (it was with a High School Basketball Coach). The Clinton staff politely inquired if Coach Wooden could reschedule his existing noon appointment,as Mr. Clinton had a remarkably busy schedule and they did not when they might be able to reschedule. Coach politely said no, as we wanted to keep his commitment to his scheduled noon time visitor.
Do you start and stop on time?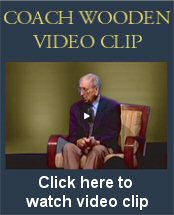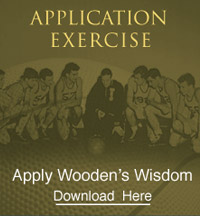 COACH'S FAVORITE POETRY AND PROSE
The Other Fellow
Whose luck is better far than ours?
The other fellow's.
Whose road seems always lined with flowers?
The other fellow's.
Who is the man who seems to get
Most joy in life, with least regret,
Who always seems to win his bet?
The other fellow.
Who fills the place we think we'd like?
The other fellow.
Whom does good fortune always strike?
The other fellow.
Whom do we envy, day by day?
Who has more time than we to play?
Who is it, when we mourn, seems gay?
The other fellow.
Who seems to miss the thorns we find?
The other fellow.
Who seems to leave us all behind?
The other fellow.
Who never seems to feel the woe,
The anguish and the pain we know?
Who gets the best seats at the show?
The other fellow.
And yet, my friend, who envies you?
The other fellow.
Who thinks he gathers only rue?
The other fellow.
Who sighs because he thinks that he
Would infinitely happier he,
If he could be like you or me?
The other fellow.

Edgar Albert Guest (1881-1959)