"SUGGESTIONS FOR A POSITIVE TEAM/WORK ENVIRONMENT"

A question I have been asked frequently is "How do I deal with a team member / employee who has a bad attitude? A bad attitude maybe displayed in several different ways ranging from body language and/ or tone of voice to more overt direct actions that the team member uses to display their unhappiness. You should act on this right away. Don't let it linger and affect others. The first step is to have a one-on-one conversation with that person, preferable in person with zoom as second choice. A phone call or email may not be effective.
Here is an effective way to have that awkward conversation that does not attack character or intent. Let's assume the person displaying the bad attitude is Bill and the coach is Judy.
Judy: "Bill you seem pretty unhappy, and I feel bad for you. What is causing you to feel this way." Bill : "I don't want to discuss it."
Judy : "Bill, how can I help you with this situation?" Bill : "What situation?"
Judy must be prepared to be specific without being accusatory. Judy: "Bill you are often complaining about certain situations and seem pretty focused on the negative aspects of our team." Bill : 'I don't want talk about it."
Judy : "Well Bill, the positions we have to offer at our company require that a team member be a "good individual performer" and a "good teammate". Your individual performance is good, but I need to help you be a better teammate. Please tell me what is bothering you. I will keep it in confidence if you would like. Let's work on a solution together. I want your input and value your opinion."
Judy must be ready to be specific, really listen and find whatever value Bill has in his comments. Judy should stay away from phrases like "I have a better idea" and see if she can implement at least one idea of Bill's. Judy, however, must make the final decisions.
At any point in this conversation the team member may volunteer that they have a personal problem affecting their performance. It is a good idea to listen but not be judgmental or offer advice.
A good idea to communicate to the team is: "If you have something to say to somebody or about somebody, think if it will help them or hurt them. If it will help them, say it. If it will hurt them, don't. If you don't like something, communicate it to a person who can fix it. If you don't like your playing time talk to the coach, don't complain to a teammate. If you don't like your paycheck talk to your boss, don't complain to a co-worker."
We want to encourage feedback about what is not working to the right person.
The unfixable whiner and complainer will damage your team in the long run no matter how good of an individual performer they are.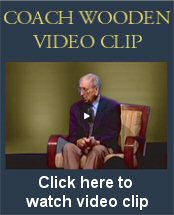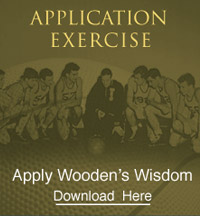 COACH'S FAVORITE POETRY AND PROSE
Rich
Who has a troop of romping youth
About his parlour floor,
Who nightly hears a round of cheers,
When he is at the door,
Who is attacked on every side
By eager little hands
That reach to tug his grizzled mug,
The wealth of earth commands.

Who knows the joys of girls and boys,
His lads and lassies, too,
Who's pounced upon and bounced upon
When his day's work is through,
Whose trousers know the gentle tug
Of some glad little tot,
The baby of his crew of love,
Is wealthier than a lot.

Oh, be he poor and sore distressed
And weary with the fight,
If with a whoop his healthy troop
Run, welcoming at night,
And kisses greet him at the end
Of all his toiling grim,
With what is best in life he's blest
And rich men envy him.

Edgar Albert Guest (1881-1959)