"LISTEN DON'T JUST HEAR" (BILL RUSSELL PART 3)

In Bill Russell's 13 years in the NBA (1956-69) his Boston Celtics won 11 championships. For the last two championships (1968 and 1969) he was the player-coach. Sports Illustrated named him "the greatest team player in history."
In 2001 Russell, with David Falkner, published a fantastic book on leadership, Russell Rules. In his book Coach Russell discusses the importance of listening:
"Listening is essential to winning. There is no way around it. If you do not listen, you cannot win. Poor listening habits get in the way of success in both personal and professional relationships." Coach Russell listed three bad habits that people fall into when they are hearing but not listening. Look at the following list and see how many you answer with a yes.
Do you find yourself trying to come up with a "better" story than the one the speaker is telling?
Are you nodding your head or asking trivial questions to seem as if you are listening?
Are you interrupting because you feel you have a "more important" thing to say?"
Coach Russell continues with three positive tips on listening:
When you are an active listener, you are respecting what the other person is feeling or expressing.
Make sure your ears are open enough not only to catch what is said, but to pick up the intention of the speaker. Combine what is said with what is meant so that useful decision-making may follow.
Convert your listening skills to effective language skills. Once you have learned to listen, become especially mindful of the kinds of words and phrases you use that will help others listen to you more effectively."
Coach Russell observed:
"We tend to respect and even to like those who listen to us even if they disagree with us. It is a basic but powerful human need to be understood, and the effective listener is filling that need as well as gaining information that he or she may need. Perhaps because we had no formal listening training in grade school and all of us can hear, we assume we are listening when we really aren't. It seems to me that eighty percent of people hear while only twenty percent really listen."
I believe every team and business should provide formal listening training for all leaders and team members. You can start with the book: "Just Listen" by Mark Goulston. A culture of listening will be successful; a culture of just hearing will not.
What formal listening training are you providing your team with?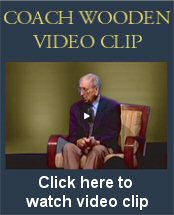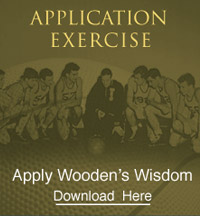 COACH'S FAVORITE POETRY AND PROSE
The Sulkers
The world's too busy now to pause
To listen to a whiner's cause;
It has no time to stop and pet
The sulker in a peevish fret,
Who wails he'll neither work nor play
Because things haven't gone his way.

The world keeps plodding right along
And gives its favors right or wrong
To all who have the grit to work
Regardless of the fool or shirk.
The world says this to every man:
'Go out and do the best you can.'

The world's too busy to implore
The beaten one to try once more;
'Twill help him if he wants to rise,
And boost him if he bravely tries,
And shows determination grim;
But it won't stop to baby him.

The world is occupied with women and men
Who fall but quickly rise again;
But those who whine because they're hit
And step aside to sulk a bit
Are doomed someday to wake and find
The world has left them far behind.

Edgar Albert Guest (1881-1959)