"OBSERVE AND INNOVATE" (BILL RUSSELL PART 6)

In Bill Russell's 13 years in the NBA (1956-69) his Boston Celtics won 11 championships. For the last two championships (1968 and 1969) he was the player-coach. Prior to the Celtics, Russell attended the University of San Francisco which he led to back-to-back National Championships (1955 & 1956).
At USF Russell revolutionized basketball with his innovation of blocking shots. In 1953 the accepted wisdom of the day on general defensive strategy was: "A good defensive player never leaves his feet."
Russell had taught himself how to visualize and mirror opponents and jump at just the right time to block their shot. As a sophomore this habit was viewed as a lack of discipline, and he did not get to play. As a Junior, and Senior, the Coach was forced to play him as he was the only center on the team.
He often blocked fifteen or more shots in a game, leading USF to two National Championships. He was the only player in college basketball blocking shots and his coach viewed the blocked shot as improper, but tolerated it as they won 57 of 58 games.
In his book, Russell Rules, which he wrote with David Falkner, Coach Russell describes how he taught himself to visualize opponents:
"When I was a child, soon after my family had moved from Louisiana to West Oakland, California, my mother decided that I had to have a library card. I spent my time poring over art books, particularly over reproductions of the work of Michelangelo and Leonardo da Vinci and the other Renaissance painters. I remember that I'd sit up at a table near the stacks, opening the books, staring at one plate after another.
I wouldn't bring books home from the library just because I was curious to see if I could draw out what I had memorized. I'd sit at home and try to copy on paper what was in my brain."
On the playgrounds of Oakland, Russell used his self-taught skill of visualization to anticipate the opponent and invented what is now known as "the blocked shot". At the time, college basketball coaches thought it was improper. Russell thought it was an innovation. It revolutionized basketball.
Do you just observe and imitate, or do you observe and innovate?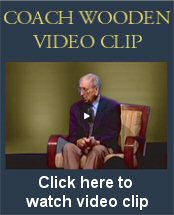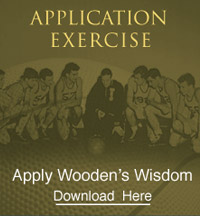 COACH'S FAVORITE POETRY AND PROSE
The Little Old Man
The little old man with the curve in his back
And the eyes that are dim and the skin that is slack,
So slack that it wrinkles and rolls on his cheeks,
With a thin little voice that goes 'crack!' when he speaks,
Never goes to the store but that right at his feet
Are all of the youngsters who live on the street.

And the little old man in the suit that was black,
And once might have perfectly fitted his back,
Has a boy's chubby fist in his own wrinkled hand,
And together they trudge off to Light-Hearted Land;
Some splendid excursions he gives every day
To the boys and the girls in his funny old way.

The little old man is unusual as can be;
He'd spend all his time with a child on his knee;
And the stories he tells I could never repeat,
But they're always of good boys and little girls sweet;
And the children come home at the end of the day
To tell what the little old man had to say.

Once the little old man didn't trudge to the store,
And the tap of his cane wasn't heard any more;
The children looked eagerly for him each day
And wondered why he didn't come out to play
Till some of them saw Doctor Brown ring his bell,
And they wept when they heard that he might not get well.

But after a while he got out with his cane,
And called all the children around him again;
And I think as I see him go trudging along
In the center, once more, of his light-hearted throng,
That earth has no glory that's greater than this:
The little old man whom the children would miss.

Edgar Albert Guest (1881-1959)