"PERSONAL INTEGRITY" (BILL RUSSELL PART 7)

In Bill Russell's 13 years in the NBA (1956-69) his Boston Celtics won 11 championships. For the last two championships (1968 and 1969) he was the player-coach. He is a person of great integrity.
In his book, Russell Rules which he wrote with David Falkner, Coach Russell defines personal integrity and its importance:
"A leader who lacks integrity will sooner or later be leading no one; a follower who is without it goes nowhere. Integrity is what allows us, wherever we find ourselves in life, to stand behind our words and actions. Integrity allows us to look in the mirror and be comfortable with the person looking back at us.
Integrity is our guide through the swampland, our most trusted friend and most reliable critic both, our own personal Geiger counter.
To reach any level of understanding of ourselves we must examine who we are and at least understand and accept the many aspects of our individuality. Integrity is about the beliefs, attitudes, and behaviors that go into how we make decisions, how we conduct ourselves in our day-to-day lives, who we are in the workplace and at home."
Russell continues with these four key ideas:
"The most essential and common behavior integrity demands of us is responsibility. In its essence, that
means being able to own what it is you do. That implies that your actions and words will be filled with self-awareness. That you will take the pains to see consequences, possibilities, liabilities, opportunities, in whatever you do—and accepting them rather than feigning surprise or ignorance when what happens subsequently produces a result less desirable than what you wished for.
Stand behind the choices that you make. No leader can manage with "buts."
Be fully present in whatever you are doing. That means giving all of yourself to a task at hand.
Integrity comes from within, not dogma or rigidity. Integrity proceeds across a no-man's-land of doubt, fear, and contradiction where the only reliable guide is fidelity to oneself. Gandhi, a man who exemplified integrity said: "I do not concern myself with being consistent, I only concern myself with being consistent with the truth as it reveals itself to me."
Does your personal integrity determine your actions?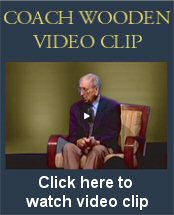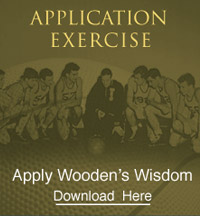 COACH'S FAVORITE POETRY AND PROSE
The Proof Of Worth
Though victory's proof of the skill you possess,
Defeat is the proof of your grit;
A weakling can smile in his days of success,
But at trouble's first sign he will quit.
So the test of the heart and the test of your pluck
Isn't skies that are sunny and fair,
But how do you stand to the blow that is struck
And how do you battle despair?
A fool can seem wise when the pathway is clear
And it's easy to see the way out,
But the test of man's judgment is something to fear,
And what does he do when in doubt?
And the proof of his faith is the courage he shows
When sorrows lie deep in his breast;
It's the way that he suffers the griefs that he knows
That brings out his worst or his best.

The test of a man is how much he will bear
For a cause which he knows to be right,
How long will he stand in the depths of despair,
How much will he suffer and fight?
There are many to serve when the victory's near
And few are the hurts to be borne,
But it calls for a leader of courage to cheer
The men in a battle forlorn.

It's the way you hold out against odds that are great
That proves what your courage is worth,
It's the way that you stand to the bruises of fate
That shows up your stature and girth.
And victory's nothing but proof of your skill,
Veneered with a glory that's thin,
Unless it is proof of unfaltering will,
And unless you have suffered to win.

Edgar Albert Guest (1881-1959)