GREAT LEADERS ARE APPROACHABLE AND AVAILABLE (TONY DUNGY PART THREE)

Tony Dungy was head coach of the Tampa Bay Buccaneers from 1996 to 2001, and head coach of the Indianapolis Colts from 2002 to 2008.Coach Dungy became the first African American head coach to win the Super Bowl when his Colts defeated the Chicago Bears in 2007. Dungy also set a new NFL record for consecutive playoff appearances by a head coach in 2008 after securing his tenth straight playoff appearance.
In his book, The Leader Mentor, Coach Dungy points out the importance of a leader being approachable and mentally available when approached:
"It used to be common for leaders to keep their distance from the people they led. I think most of us have now gotten beyond that old model. The best leaders I've found are those who are engaged with the people around them.
When you know the people who are following you, maybe some of the decisions get tougher. Maybe they are more painful. Maybe the additional information you have—about a person's home life, family, finances, or personality—might make a particular decision more difficult. But you aren't looking for easy, I hope.
As your relationships deepen, you will build trust, and your open-door policy will provide an environment in which even more mentoring can occur. Second, as the bonds of friendship grow, the people you lead will grow more committed to you — because it is clear that you care about them. And the goals that seem worthwhile to you will have value to them.
Part of being approachable is staying available emotionally. Jim Zorn, the former head coach of the Washington Redskins, said that he picked up a phrase during his career that helped him when the pressure was on: "Act medium."
Over time, he learned to put things behind him emotionally—both good and bad—and to stay focused on future performance. Thus, to "act medium" came to mean staying available emotionally — neither too high nor too low, avoiding extremes."
Do you stay emotionally balanced, so you are available to effectively lead?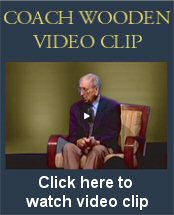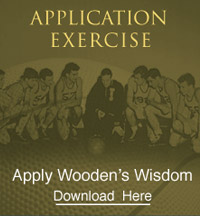 COACH'S FAVORITE POETRY AND PROSE
The Book of Memory
Turn me loose and let me be
Young once more and fancy free;
Let me wander where I will,
Down the lane and up the hill,
Trudging barefoot in the dust
In an age that knows no 'must,'
And no voice insistently
Speaks of duty unto me;
Let me tread the happy ways
Of those by-gone yesterdays.

Fame had never whispered then,
Making slaves of eager men;
Greed had never called me down
To the gray walls of the town,
Offering frankincense and myrrh
If I'd be its prisoner;
I was free to come and go
Where the cherry blossoms blow,
Free to wander where I would,
Finding life supremely good.

But I turned, as all must do,
From the happiness I knew
To the land of care and strife,
Seeking for a fuller life;
Heard the lure of fame and sought
That renown so dearly bought;
Listened to the voice of greed
Saying: 'These the things you need,'
Now the gray town holds me fast,
Prisoner to the very last.

Age has stamped me as its own;
Youth to younger hearts has flown;
Still the cherry blossoms blow
In the land loused to know;
Still the fragrant clover spills
Perfume over dales and hills,
But I'm not allowed to stray
Where the young are free to play;
All the years will grant to me
Is the book of memory.

Edgar Albert Guest (1881-1959)