HELP OTHERS; ONE PERSON AT A TIME (TONY DUNGY PART FOUR)

Tony Dungy was head coach of the Tampa Bay Buccaneers from 1996 to 2001, and head coach of the Indianapolis Colts from 2002 to 2008. Coach Dungy became the first African American head coach to win the Super Bowl when his Colts defeated the Chicago Bears in 2007. Dungy also set a new NFL record for consecutive playoff appearances by a head coach in 2008 after securing his tenth straight playoff appearance.
"Nobody made a greater mistake than a person who did nothing because they could only do a little." -Edmund Burke
"The greatest good you can do for another is not just to share your riches, but to reveal to them their own." - Benjamin Disraeli
"If you can't feed a hundred people, then feed just one." - Mother Teresa
Coach Dungy refers to these three great quotes in his book, The Leader Mentor, to make the point that we don't have to be older or famous to help others in a meaningful way. He explained his viewpoint this way:
"We are surrounded by countless moments in which we can influence others. Ideally, our influence will be for good—but that depends on us. We will choose from day to day, or from situation to situation, what kind of influence we will be.
That's the power we have to make a difference in the world around us. Our impact could be as simple—and as profound—as changing one life. And in that moment of changing a life, we will begin to leave our legacy.
Understand that we all will leave a legacy. The only question is what kind of legacy we will leave—positive or negative. It's not a question we should put off until our last days on earth. It's something we must think about now, each and every day that we live. Don't worry about your platform; focus on your impact."
Can you say or do something kind for at least one person each day? Will you? When will you start?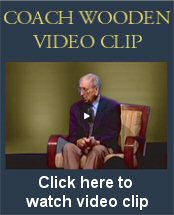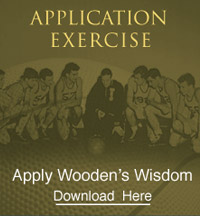 COACH'S FAVORITE POETRY AND PROSE
Today
Today is mine. Tomorrow may not come.
Next week, next year, I may not live to see;
This hour I have. It is enough for me
To make by smiles, or mar by being glum.
And so I strive to live this one day well,
To tread the path of right as best I may,
To speak the kind words that I have to say;
Tomorrow I may be an empty shell.

One day is all God gives to us to plan,
And so I strive to live it as my life,
To bear with patience what I find of strife,
To do my share to cheer my fellow man;
To do today what I can do to aid,v To let none pass whom words of mine might cheer,
Tomorrow they may not be toiling here,
Tomorrow in the ground I may be laid.

Edgar Albert Guest (1881-1959)