GREAT LEADERS SEEK DIVERSITY (TONY DUNGY PART FIVE)

Tony Dungy was head coach of the Tampa Bay Buccaneers from 1996 to 2001, and head coach of the Indianapolis Colts from 2002 to 2008. Coach Dungy became the first African American head coach to win the Super Bowl when his Colts defeated the Chicago Bears in 2007. Dungy also set a new NFL record for consecutive playoff appearances by a head coach in 2008 after securing his tenth straight playoff appearance.
Coach Dungy believes that having a team made up of people from diverse backgrounds is an advantage. In his book, The Leader Mentor, he explained his viewpoint this way:
"Diversity is not something we should merely accept as a legal mandate. Rather, we should recognize that our diverse backgrounds and life experiences enhance the synergy of a high-performing team.
Efficient, high-performing teams create a level of camaraderie. It isn't necessary that all teammates become the best of friends, but a level of respect and appreciation will characterize teams that are truly maximizing their output.
Differences among the team will enhance its drive for success, if handled properly within the context of the culture, vision, mission, and values of the organization. God created us each with different talents, abilities, and strengths. We are also unique in our life experiences, outlooks, and personalities. Because of our differences, we will excel in different ways.
Some things that are simple or obvious to me won't be for you, and visa versa. It's the combination of our diverse strengths that makes the team stronger.
There have been many great coaches in the history of the NFL and college football. Some have been master tacticians or great strategists, while others have not. Though mastery of the Xs and Os is definitely a part of the game, it isn't the primary characteristic of the all-time great coaches. Instead, what sets them apart is their ability to reach across a variety of backgrounds to get everyone on the same page."
Are you getting creative input from all the diverse members of your team?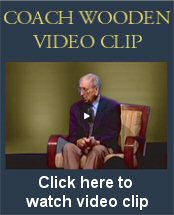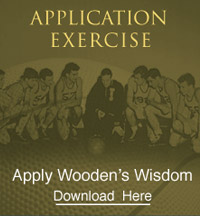 COACH'S FAVORITE POETRY AND PROSE
The Undaunted
He tried to travel No Man's Land, that's guarded well with guns,
He tried to race the road of death, where never a coward runs.
Now he's asking of his doctor, and he's panting hard for breath,
How soon he will be ready for another bout with death.

You'd think if you had wakened in a shell hole's slime and mud
That was partly dirty water, but was mostly human blood,
And you had to lie and suffer till the bullets ceased to hum
And the night time dropped its cover, so the stretcher boys could come-
You'd think if you had suffered from a fever and its thirst,
And could hear the 'rapids' spitting and the high explosives burst,
And had lived to tell that story- you could face our fellow men
In the little peaceful village, though you never fought again.

You'd think that once you'd fallen in the shrapnel's deadly rain,
Once you'd shed your blood for honor, you had borne your share of pain;
Once you'd traveled No Man's country, you'd be satisfied to quit
And be invalided homeward, and could say you'd done your bit.
But he's lying, patched and bandaged, very white and very weak,
And he's trying to be cheerful, though it's agony to speak;
He is pleading with the doctor, though he's panting hard for breath,
To return him to the trenches for another bout with death.

Edgar Albert Guest (1881-1959)