"MAKE YOUR PRESENCE A PRESENT" (NAN WOODEN)

On September 14, 2021, Nancy Anne (Nan) Wooden died from natural causes and immediately headed for heaven to join her parents Nell and John Wooden and many other friends she had made in her time on earth. She was 87.
Nan Wooden had great character and many amazing personal qualities. As Coach Wooden's daughter Nan accompanied her Dad all over the country and to countless UCLA events. After Coach Wooden's passing, Nan gave generously of her time and continued to represent the family at the same events.
Every time Nan met somebody, she "Made her presence a present" by always taking the time to sincerely engage them in a positive conversation, often inquiring about their family. Nan Wooden did this thousands of times in her lifetime and made thousands of people happy and made thousands and thousands of friends.
Nan attended every UCLA basketball game until her health declined, probably seeing more UCLA basketball games than anyone ever.. Entering Pauley Pavilion and walking with Nan to her seat took a long time. Nan knew the name of every usher or ticket taker we passed, and she would stop with each one and have what I call the "Nan Wooden positive personal contact". She would inquire about them personally, their children, spouse, or a family member with a sincere interest straight from her loving and generous heart. Each person she spoke to had a smile on their face when she walked away.
Once seated, Nan would have a "Nan Wooden positive personal contact" with Harry or London, who oversaw security for the area. Over the years Nan became great friends with Harry and London and as Nan did with all her friends, she made them feel like they were part of the family and she thought of them as such.
This is just one of thousands of examples of Nan making her friends feel like part of her family because she treated them like part of her family. Her actions were sincere and full of genuine love that those who met her could feel. This is how Nan lived every day! She made the world a better place.
It would be great if we all could have lots of "Positive personal contacts" and make our "Our presence a present" like Nan did.
Please feel free to respond to this issue if you have a story or thought about Nan you would like to share.
"Make your presence a present" – Kyle Impelman (Grandson of Nan Wooden)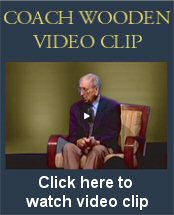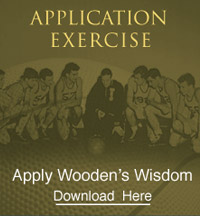 COACH'S FAVORITE POETRY AND PROSE
If You And I
If you would smile a little more
And I would kinder be,
If you would stop to think before
You speak of faults you see.
If I would show more patience, too,
With all with whom I'm hurled,
Then I would help and so would you
To make a better world.

If you would cheer your neighbor more
And I'd encourage mine,
If you would linger at his door
To say his work is fine,
And I would stop to help him when
His lips in frowns are curled,
Both you and I'd be helping then
To make a better world.

But just as long as you keep still
And plod your selfish way,
And I rush on, and heedless kill
The kind words I could say;
While you and I refuse to smile
And keep our gay flags furled,
Someone will grumble all the while
That it's a gloomy world.

Edgar Albert Guest (1881-1959)