"CREATE A CHALLENGE" (BILL RUSSELL PART NINE)

In Bill Russell's 13 years in the NBA (1956-69) his Boston Celtics won 11 championships. For the last two championships (1968 and 1969) he was the player-coach.
As a leader, Bill Russell was a "challenger". A challenger is a leader who, when faced with difficulty, creates a challenge for the team to come up with a solution. By doing this the leader gets energy and buy in from the team. Each team member grows because they must learn new things to come up with the solution.
The other type of leader is "the know it all" who says, "here's what we're going to do." The must-read book "Multipliers" by Liz Wiseman will provide you with research data on how a "challenger" succeeds as opposed to a "know it all".
In his book Russell Rules, Coach Russell gives an example of creating a challenge:
"In my final season with the Boston Celtics, we were not expected to win another championship. We had finished fourth in the Eastern Division. As player-coach, I carefully reviewed the season. When I looked at a game-by-game breakdown of our season I noticed something curious. We lost seventeen games by three or fewer points. That meant, to me, that we were not closing well. We did not really have a last-second shot play that was effective in putting us ahead.
I called the guys together and I told them what I had found and that we needed to come up with a last-second shot play. I left it to the guys to come up with the play. I asked them what plays they had used in college at the end that had been especially successful. John Havlicek and Larry Sigfried were from Ohio State and had what I thought to be the best play.
When we first ran the play, it took twenty-seven seconds to run. Obviously, it would never do in the final seconds of a game. Everyone on the team understood this. With everybody participating in the refinement process we were able to run that play in four seconds.
We ran the play in the play-offs and won five of our games by three points or less in route to our eleventh NBA championship. The decision—which involved delegation, risk, commitment, discipline, and responsibility— was, to me, the epitome of what sound decision-making is all about."
Do you create challenges?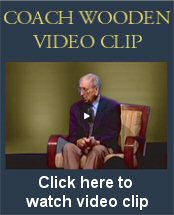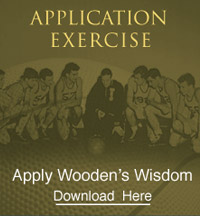 COACH'S FAVORITE POETRY AND PROSE
Some Day
Some day our eyes will brighten, and some day our hearts will lighten,
Some day the sun will shine for you and me;
Some day grim doubt we'll banish, and the clouds of woe will vanish,
And the rosy, golden future we shall see.
Some day we'll know the wherefore of earth's journey, sweetheart, therefore
Let us bear the present bravely as we go,
Let us sing our songs of gladness, though our hearts are tinged with sadness,
We shall some day reach the valley where the roses bloom and blow.

Some day in the hereafter we shall find the will for laughter,
And the smiles will deck our faces once again;
And upon that brighter morrow, you shall ne'er have cause for sorrow,
For I'll never stay out later, dear, than ten;
Some day I'll cease to worry you while dressing, or to hurry you,
But patiently I'll wait until you come,
And though late we are, my dearie, I shall still be gay and cheery,
On the day when little trials shall have ceased to make us glum.

Some day soon, I feel it coming, when the bees once more are humming,
And the snows have melted silently away,
When the skies above are tender, and old Mother Earth in splendor
Bedecks herself with pansies and the tulips red and gay,
Maybe somebody will write me and in pleasant terms invite me
To spend Sunday at his cottage on the bay;
And that day when we are fishing, and our lines are gayly swishing,
We shall never have to murmur that the big ones got away.

Edgar Albert Guest (1881-1959)