"SELF-CONTROL: THE MOTOR OF SUCCESS"

In his Pyramid of Success, Coach Wooden describes how to maintain Self-Control: "Practice self-discipline and keep emotions under control. Good judgement and common sense are essential." Self–discipline and keeping our emotions under control are required to keep the other requirements for reaching our potential functioning properly.
Coach Wooden said: "Worthwhile results come from hard work and careful planning." Consistent careful planning and attention to detail requires self-discipline.
Coach advised that: "Our Enthusiasm brushes off on those who we come in contact with." Keeping a positive attitude when things aren't going well requires, we "keep our emotions under control."
Getting the cooperation of others requires that we remember we must "listen if we want to be heard." The great listener has great self-discipline which allows them to focus on what the other person is saying and have an awareness of their emotional state.
Coach Wooden felt that Alertness is critical for success. In his book, Wooden on Leadership with Steve Jamison, Coach describes alertness: "Alertness, the ability to be constantly observing, absorbing, and learning from what's going on around you, is a critical component for the individual in charge, the leader who strives for continuous improvement. You must constantly be awake, alive, and alert in evaluating yourself as well as the strengths and weaknesses of your organization and your competitors.
The sense of urgent observation—Alertness—must exist in you and be taught to those under your supervision. A leader who is sluggish in recognizing what's going on may soon be out of a job. My father liked to remind me that most of what I'd learn would come from others. This can only happen if you're alert and aware—eyes wide open and paying attention.
Alertness is a potent weapon for a leader—a great attribute. An alert leader creates an organization filled with people who pay attention, are open-minded, and strive always for improvement."
To maintain alertness, you must have your emotions under control.
Could you improve your self-discipline? Could you improve on keeping your emotions under control?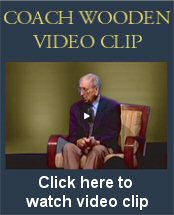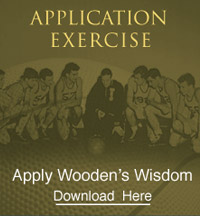 COACH'S FAVORITE POETRY AND PROSE
To The Failures
Yours is the loser's part to play,
For you the goal is far away
And never to be gained.
It is your lot to stand and see
The golden apples on life's tree
By someone else attained;
To view with yearning in your eyes
Another grasp the precious prize.

It is for you to wade through fire,
To feel the burning of desire
And want unsatisfied;
And from the sleepless hours of night
You rise at morn, once more to fight
With victory denied;
Spurred on by hope that never dies,
You struggle ever toward the prize.

A failure? Yes, as glory goes,
Yet braver in the end than those
Who life's great battles win;
For you return at break of day
With courage to renew the fray,
And with a lifted chin
You strive once more to reach the goal,
And ground your bark upon a shoal.

But when earth's story shall be told,
And God's great purpose we behold
With eyes new-born to see;
When we have passed beyond the pale
Of earth, and torn aside the veil
Of death's great mystery,
As souls victorious you'll stand
And God's great prizes you'll command.

Edgar Albert Guest (1881-1959)