"IMPROVEMENT REQUIRES ALERTNESS"

The foundation of the Pyramid of Success provides you with the proper attitude, preparation and focus on process to achieve exceptional performance with the qualities Industriousness and Enthusiasm. The other three qualities on the foundation Friendship, Loyalty and Cooperation are needed to work well with others. The second tier of the Pyramid starts with Self-Control which gives you the self-discipline and emotional balance needed to consistently be at your best.
The next quality, Alertness, which Coach Wooden says requires that you are constantly observing staying open-minded and are eager to learn is required if you are going to improve your capability. Your level of Alertness will determine how good you can be or "what your ceiling is."
Coach Wooden had extra ordinary Alertness in three critical areas needed for effective team performance.
Technical knowledge: As a player at Purdue Coach Wooden observed and quizzed opposing coaches on what they did and why they did it and built his first Basketball Notebook.

As a College Coach, for twenty- nine consecutive years he took on a basketball research project on different topics. He read all available material on the topic and contacted the coaches who were most proficient in that area to improve his own methods. His daily written observations and follow up from each practice were critical to constant improvement. He was always open to innovative ideas.
The ability and knowledge to recruit and select the best people. Coach got talented players who were the right people because of his Alertness about who he was recruiting far beyond their basketball ability. He learned about their family, extra calicular activities, strengths and weaknesses as a student and contacted other coaches about their attitude. With this composite observation he developed the knowledge in advance to determine whether he believed a prospect could develop into a team player or just be a talented under achieving selfish one.
The ability and knowledge to have a great working relationship with the extraordinary talent he had. Coach Wooden attended psychology classes while he was actively coaching to learn how to better work with everyone beyond just applying his technical knowledge. His analysis of each individual was a continuous effort that was constantly evolving.
Can you improve your Alertness?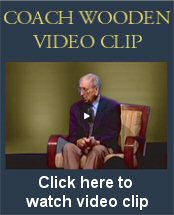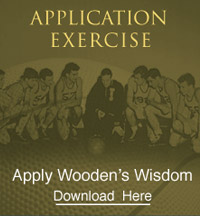 COACH'S FAVORITE POETRY AND PROSE
When There's Health In The House
When there's good health In the house, there is laughter everywhere,
And the skies are bright and sunny and the roads are smooth and fair,
For the mother croons her ditties, and the father hums a song.
Although heavy be his burdens, he can carry them along.

When there's good health in the house, there are smiles on every hand,
Luck is dancing down the roadway to the music of a band,
Then the hum of wheels is cheery and the daily tasks are fun.
And the toller smiles at evening at the sum of work he's done.
When there's good health in the house, hearts are light and hands are true
And the poor men count their blessings and the rich are happy, too;
Then the cares which life abounds with seem but trifling things and small
And a man can laugh at dangers and go bravely through them all.

When there's good health in the house, in the house he's left behind,
He is happier than a monarch for he's blest with peace of mind.
For with all he has to struggle he is master of his fears,
For the laughter of his children's sweetly ringing in his ears.

Edgar Albert Guest (1881-1959)