"SUCCESS IS TO BE MEASURED NOT SO MUCH BY THE POSITION THAT ONE HAS REACHED IN LIFE AS BY THE OBSTACLES WHICH ONE HAS OVERCOME WHILE TRYING TO SUCCEED." (BOOKER T. WASHINGTON PART TWO)

Booker T. Washington was an American educator, author, orator, and adviser to several presidents of the United States. Between 1890 and 1915, Mr. Washington was the dominant leader of the African American community in the United States.
In his 1901 autobiography "Up From Slavery" he described his work experience and desire for an education as a child:
"During the period that I spent in slavery I was not large enough to be of much service, still I was occupied most of the time in cleaning the yards, carrying water to the men in the fields, or going to the mill to which I used to take the corn, once a week, to be ground.
The mill was about three miles from the plantation. The heavy bag of corn would be thrown across the back of the horse, and the corn divided about evenly on each side; but in some way, almost without exception, on these trips, the corn would so shift as to become unbalanced and would fall off the horse, and often I would fall with it. As I was not strong enough to reload the corn upon the horse, I would have to wait, sometimes for many hours, till a chance passer-by came along who would help me out of my trouble. The time consumed in this way made me late in reaching the mill, and by the time I got my corn ground and reached home it would be far into the night.
I had no schooling whatever while I was a slave, though I remember on several occasions I went as far as the schoolhouse door with one of my young mistresses to carry her books. The picture of several dozen boys and girls in a schoolroom engaged in study made a deep impression upon me, and I had the feeling that to get into a schoolhouse and study in this way would be about the same as getting into paradise."
No obstacles would stop Booker t. Washington. In 1881, he started The Tuskegee Institute which is today Tuskegee University with over three thousand students from over thirty countries. For his contributions to American society, he was granted an honorary master's degree from Harvard University in 1896, followed by an honorary doctorate from Dartmouth College.
What obstacles will you overcome?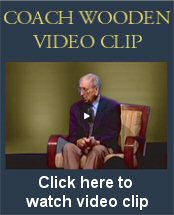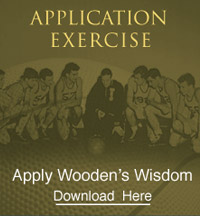 COACH'S FAVORITE POETRY AND PROSE
To The Boy
I have no wish, my little lad,
To climb the towering heights of fame.
I am content to be your dad
And share with you each pleasant game.
I am content to hold your hand
And walk along life's path with you,
And talk of things we understand-
The birds and trees and skies of blue.

Though some may seek the smiles of kings,
For me your laughter's joy enough;
I have no wish to claim the things
Which lure men into pathways rough.
I'm happiest when you and I,
Unmindful of life's bitter cares,
Together watch the clouds drift by,
Or follow boyhood's thoroughfares.

I crave no more of life than this:
Continuance of such a trust;
Your smile, whate'er the morning is,
Until my clay returns to dust.
If but this comradeship may last
Until I end my earthly task-
Your hand and mine by love held fast-
Fame has no charm for which I'd ask.

I would not trade one day with you
To wear the purple robes of power,
Nor drop your hand from mine to do
Some great deed in a selfish hour.
For you have brought me joy serene
And made my soul supremely glad.
In life rewarded I have been;
'Twas all worthwhile to be your dad.

Edgar Albert Guest (1881-1959)