BE AUTHENTIC. THINK FOR YOURSELF. (BOOKER T. WASHINGTON PART FOUR)

Booker T. Washington was an American educator, author, orator, and adviser to several presidents of the United States. Between 1890 and 1915, Mr. Washington was the dominant leader of the African American community in the United States.
Mr. Washington had great credibility because he was a person with no pretense or need to impress others. In short, he was authentic and could think for himself.
In his 1901 autobiography, Up From Slavery, Washington shared how his Mother helped him develop this character trait:
"When I found myself at the school for the first time, I found myself confronted with a difficulty. I found that all the other children wore hats or caps on their heads, and I had neither hat nor cap. In fact, I do not remember that up to the time of going to school I had ever worn any kind of covering upon my head, nor do I recall that either I or anybody else had even thought anything about the need of covering for my head.
When I saw how all the other boys were dressed, I began to feel quite uncomfortable. I put the case before my mother, and she explained to me that she had no money with which to buy a "store hat," which was a rather new institution at that time among the members of my race and was considered quite the thing for young and old to own, but that she would find a way to help me out of the difficulty. She accordingly got two pieces of "homespun" (jeans) and sewed them together, and I was soon the proud possessor of my first cap.
The lesson that my mother taught me in this has always remained with me, and I have tried as best as I could to teach it to others. I have always felt proud, whenever I think of the incident, that my mother had strength of character enough not to be led into the temptation of seeming to be that which she was not-of trying to impress my schoolmates and others with the fact that she was able to buy me a "store hat" when she was not.
I have always felt proud that she refused to go into debt for that which she did not have the money to pay for."
Are you authentic?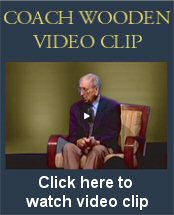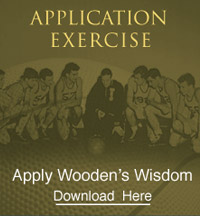 COACH'S FAVORITE POETRY AND PROSE
Safe At Home
Let the old fire blaze
An' the youngsters shout
An' the dog on the rug
Sprawl full length out,
An' Mother an' I
Sort o' settle down-
An' it's little we care
For the noisy town.

Oh, it's little we care
That the wind may blow,
An' the streets grow white
With the drifted snow;
We'll face the storm
With the break o' day,
But to-night we'll dream
An' we'll sing an' play.

We'll sit by the fire
Where it's snug an' warm,
An' pay no heed
To the winter storm;
With a sheltering roof
Let the blizzard roar;
We are safe at home-
Can a king say more?

That's all that counts
When the day is done:
The smiles of love
And the youngsters' fun,
The cares put down
With the evening gloam-
Here's the joy of all:
To be safe at home.

Edgar Albert Guest (1881-1959)