RELENTLESS RESOLVE GETS REMARKABLE RESULTS. (BOOKER T. WASHINGTON PART FIVE)

Booker T. Washington was an American educator, author, orator, and adviser to several presidents of the United States. Between 1890 and 1915, Mr. Washington was the dominant leader of the African American community in the United States.
In 1865, nine-year-old Booker was no longer a slave due to the Emancipation Proclamation. He had a relentless resolve that he would learn how to read and get an education. Nothing would stop him.
In his 1901 autobiography, Up From Slavery, Washington described the next part of his journey to greatness:
"As soon as freedom was declared, my mother's husband, sent for my mother to come to Malden in West Virginia. My stepfather had already secured a job at a salt-furnace. Though I was a mere child, my stepfather put me and my brother at work in one of the furnaces. Often, I began work as early as four o'clock in the morning.
I recall that I had an intense longing to learn to read. I determined if I accomplished nothing else in life, I would in some way get enough education to enable me to read. My mother procured an old copy of Webster's "blue-back" spelling-book, which contained the alphabet. I began at once to devour this book.
The opening of a school in our town brought me keen disappointment. I had been working in a salt-furnace for several months, and my stepfather had discovered that I had a financial value, and so, when the school opened, he decided that he could not spare me from my work. From my work I could see the happy children passing to and from school mornings and afternoons.
I determined that I would learn something, anyway. I applied myself with greater earnestness than ever to the mastering of what was in the "blue-back" speller.
After a while I made arrangements with a teacher to give me lessons at night. These night lessons were so welcome that I think I learned more at night than the other children did during the day. Often, I would have to walk several miles at night to recite my night-school lessons. The greater part of the education I secured in my boyhood was gathered through the night-school.
There was never a time in my youth, no matter how dark and discouraging the days might be, when one resolve did not continually remain with me, and that was a determination to secure an education at any cost."
In 1881, the man with relentless resolve, Booker T. Washington started what is now Tuskegee University with a special program called "Night School" where tens of thousands of students with relentless resolve have gotten their education. Remarkable results!
What do you have a relentless resolve for?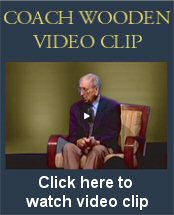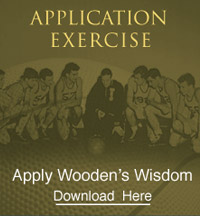 COACH'S FAVORITE POETRY AND PROSE
Bigger Than His Dad
He has heard his country calling, and has fallen into line,
And he's doing something bigger than his daddy ever did;
He has caught a greater vision than the finest one of mine,
And I know to-day I'm prouder of than sorry for the kid.

His speech is soft and vibrant with the messages of truth,
And he says some things of duty that I cannot understand;
It may be that I'm selfish, but this ending of his youth
Is not the dream I cherished and it's not the thing I planned.

I only know he's bigger in his uniform to-day
Than I, who stand and watch him as he drills, have ever been;
That he sees a greater vision of life's purpose far away,
And a finer goal to die for than my eyes have ever seen.

I wish I felt as he does, wish I had his sense of right;
With the vision he possesses I should be supremely glad;
But I sometimes start to choking when I think of him at night-
The boy that has grown bigger, yes, and better than his dad.

Edgar Albert Guest (1881-1959)