NO DRAMA, NO CRISIS, JUST ACTION! (BOOKER T. WASHINGTON PART SIX)

Booker T. Washington was an American educator, author, orator, and adviser to several presidents of the United States. Between 1890 and 1915, Mr. Washington was the dominant leader of American educational innovation and reform. He is a great American by deed and an American Treasure by example.
In his 1901 autobiography, Up From Slavery. Washington described how he handled adversity as ten-year-old school child:
"I found myself at school confronted with a second difficulty. My second difficulty was with regard to my name, or rather A name. From the time when I could remember anything, I had been called simply "Booker." Before going to school it had never occurred to me that it was needful or appropriate to have an additional name. When I heard the school-roll called, I noticed that all of the children had at least two names, and some of them indulged in what seemed to me the extravagance of having three. I was in deep perplexity, because I knew that the teacher would demand of me at least two names, and I had only one. By the time the occasion came for the enrolling of my name, an idea occurred to me which I thought would make me equal to the situation; and so, when the teacher asked me what my full name was, I calmly told him "Booker Washington," as if I had been called by that name all my life; and by that name I have since been known.
I think there are not many men in our country who have had the privilege of naming themselves in the way that I have. Years ago, I resolved that because I had no ancestry myself I would leave a record of which my children would be proud, and which might encourage them to still higher effort."
When faced with adversity, ten-year-old Booker t. Washington did what he would do his whole life. No drama, no crisis, just action. As he wrote: "I have begun everything with the idea that I could succeed, and I never had much patience with the multitudes of people who are always ready to explain why one cannot succeed."
The little boy who had one name now has five parks, eighteen schools, one college, a mountain and a bridge named after the name he chose: Booker T. Washington. No drama, no crisis, just action.
What do you do when you face adversity?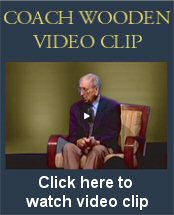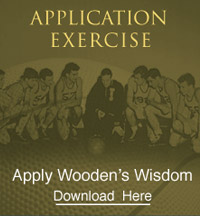 COACH'S FAVORITE POETRY AND PROSE
The Fight Worthwhile
The fight worthwhile on this good old earth
Isn't the fight for a hoard of gold I
It isn't the fight to increase your worth
In stocks and bonds and things to hold;
It isn't the fight for a higher place,
For a need of power for a little while,
Or to finish first in the grinding race
And to bask in glory and pomp and style.

The fight worthwhile is the fight to be
Unfettered here by the cords of vice;
To set your soul from your body free,
To be unswerved by a yellow price;
To win the love of your fellowmen,
To be a man that they all respect,
To lose a fight but to fight again
With your shoulders square and your head erect.

This is the fight worthwhile today;
To have ideals and to cling to them,
To live your life in your own good way
In spite of the scoffers who may condemn;
To be willing to fail if the victory
Would lower your standard of what is right,
To be poor in purse, if you have to be,
But rich in spirit. Here is a fight!

To ask no favors from any man,
To conquer yourself, and to face the strife
With courage born of your own-made plan,
To do your best with your term of life;
To shirk no task that you find to do,
However bitter it seems to be!
And at last when the battle of earth is through
To be ready to die, is victory.

Edgar Albert Guest (1881-1959)