COACH THE HEAD, HEART AND THE HANDS! (BOOKER T. WASHINGTON PART NINE)

Booker T. Washington was an American educator, author, orator, and adviser to several presidents of the United States. Between 1890 and 1915, he was the dominant leader of American educational innovation and reform.
At the age of fourteen he took a job as a servant in the home of Mrs. Viola Ruffner who had a reputation for being too strict. Mr. Washington, however, flourished with her guidance. In his 1901 autobiography, Up From Slavery, he described her influence:
"I understood she wanted everything kept clean about her, wanted things done promptly and systematically, and that at the bottom of everything she wanted absolute honesty and frankness. I have said more than once before that the lessons that I learned in the home of Mrs. Ruffner were as valuable to me as any education I have ever gotten anywhere else."
Two years later, having made the 500-mile trip from his hometown of Malden, he arrived in Hampton, Virginia where he hoped to enroll at the Hampton Institute.
"I presented myself before the head teacher for an assignment to a class. She did not refuse to admit me, neither did she decide in my favor. After some hours had passed, the head teacher said to me: "The adjoining recitation-room needs sweeping. Take the broom and sweep it."
It occurred to me at once that here was my chance. Never did I receive an order with more delight. I knew that I could sweep, for Mrs. Ruffner had taught me how to do that.
I swept the recitation-room three times. Then I got a dusting-cloth and dusted it four times. All the woodwork around the walls, every bench, table, and desk, I went over four times with my dusting-cloth. Besides, every piece of furniture had been moved and every closet and corner in the room had been thoroughly cleaned.
When I was through, I reported to the head teacher. She went into the room and inspected the floor and closets; then she took her handkerchief and rubbed it on the woodwork about the walls, and over the table and benches. When she was unable to find one bit of dirt on the floor, or a particle of dust on any of the furniture, she quietly remarked, "I guess you will do to enter this institution."
Years later Mr. Washington wrote: "No one can prosper until they learn that there is as much dignity in tilling a field as in writing a poem."
What do you take pride in?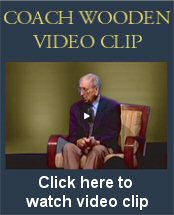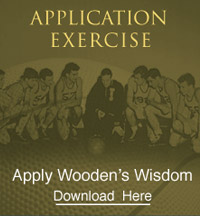 COACH'S FAVORITE POETRY AND PROSE
The Road Builder
I do not care for garments fine,
I do not care for medals bright;
I have no wish to quench with wine
My thirst when I go home at night.
I'm satisfied with work to do,
And I'm content to bear my load
If only I can carve and hew
For those I love a better road.

I have no wish for luxury
If I must live it all alone;
Nor do I toil that I may be
By many strangers better known.
If I were here to toil for self
I'd have a very simple code,
And I'd need very little pelf—
But I'm the builder of a road.

I'm on this earth to pioneer
For those who follow after me,
According to my service here
Their chance for splendid life will be.
Into the future I must tread
Nor whimper at the present goad;
'Tis mine to blaze the path ahead,
I am the builder of a road.

I dare not shirk what task I find,
I dare not falsely step aside,
Nor leave the tangled brush behind.
My pathway must be clear and wide.
For they will tread the way I go,
They'll come to reap the seed I sowed
When I am sleeping 'neath the snow,
I am the builder of a road.

It is for them I face the front
And strive to keep my pathway straight,
It is for them I bear the brunt
Of selfishness and bitter hate.
That they may know a smoother way,
That they may bear a lighter load,
I, smiling, face the heat of day—
I am the builder of a road.

Edgar Albert Guest (1881-1959)