STUDY GREAT PEOPLE (BOOKER T. WASHINGTON PART TEN)

Booker T. Washington was an American educator, author, orator, and adviser to several presidents of the United States. Between 1890 and 1915, he was the dominant leader of American educational innovation and reform.
His mentor was General Samuel Armstrong. In 1868, General Armstrong founded the Hampton Institute in Virginia. The Institute was the first school where African and Native American students could receive post-secondary education to become teachers. In 1872 Booker T. Washington enrolled in the Hampton Institute.
In his 1901 autobiography, Up From Slavery, Dr. Washington described General Armstrong's influence:
"General Samuel C. Armstrong was the noblest, rarest human being that it has ever been my privilege to meet. It was my privilege to know the General personally from the time I entered Hampton till he died, and the more I saw of him the greater he grew in my estimation.
One might have removed from Hampton all the buildings, classrooms, teachers, and industries, and given the men and women there the opportunity of coming into daily contact with General Armstrong, and that alone would have been a liberal education. The older I grow, the more I am convinced that there is no education which one can get from books and costly apparatus that is equal to that which can be gotten from contact with great men and women.
Instead of studying books so constantly, how I wish that our schools and colleges might learn to study great people!
I never saw a man who so completely lost sight of himself. I do not believe he ever had a selfish thought. He was just as happy in trying to assist some other institution in the South as he was when working for Hampton.
General Armstrong spent two of the last six months of his life in my home at Tuskegee. At that time, he was paralyzed to the extent that he had lost control of his body and voice in a very large degree. Notwithstanding his affliction, he worked almost constantly night and day for the cause to which he had given his life."
Booker T. Washington changed America with the selflessness, persistence, and grace he observed in General Armstrong.
Who do you study?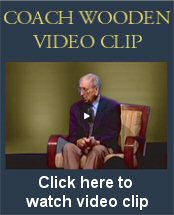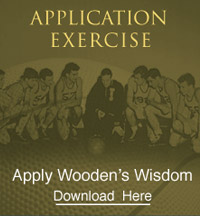 COACH'S FAVORITE POETRY AND PROSE
Business
"Business is business,' he said to me,
As he gave me short weight in my pound of tea.

'In business there isn't much sentiment,'
Said he, as he charged me the extra cent.

'Once I trusted a friend and he didn't pay,'
The bread that he sold wasn't made that day.

'Business is business,' he said to me,
Of a dozen eggs we could use but three.

O, it seems to me some way, somehow,
There's too much business in business now.

Edgar Albert Guest (1881-1959)