I APPRECIATE A HELP-OUT, BUT I DON'T WANT A HAND-OUT. (BOOKER T. WASHINGTON PART FIFTEEN)

Booker T. Washington was an American educator, author, orator, and adviser to several presidents of the United States. Between 1890 and 1915, he was the dominant leader of American educational innovation and reform.
In 1881, Mr. Washington's arrived in Tuskegee to start the first school in Alabama where African American students could receive a post-secondary education to become teachers. Mr. Washington elaborated on the project in his 1901 autobiography, Up From Slavery:
"Before going to Tuskegee, I had expected to find there a building and all the necessary apparatus ready for me to begin teaching. I found nothing of the kind. I did find, though, that which no costly building and apparatus can supply, —hundreds of hungry, earnest souls who wanted to secure knowledge.
My first task was to find a place in which to open the school. After looking the town over with some care, the most suitable place that could be secured seemed to be a rather dilapidated shanty near the black Methodist church, together with the church itself as a sort of assembly-room. Both the church and the shanty were in about as bad condition as was possible. I recall that during the first months of school that I taught in this building it was in such poor repair that, whenever it rained, one of the older students would very kindly leave his lessons and hold an umbrella over me while I heard the recitations of the others. I remember, also, that on more than one occasion my landlady held an umbrella over me while I ate breakfast."
With the leadership of Mr. Washington, The Tuskegee Institute started in that church and shanty ultimately became Tuskegee University, which today has over three thousand students from over thirty countries. The school was physically built by the students themselves. The students built the school with help-outs not hand-outs.
Are you giving those you love help-outs, or hand-outs?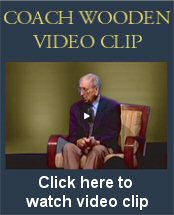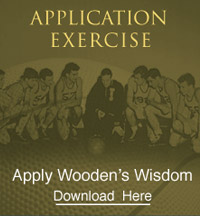 COACH'S FAVORITE POETRY AND PROSE
The Age Of Ink
Swiftly the changes come. Each day
Sees some lost beauty blown away
And some new touch of lovely grace
Come into life to take its place.
The little babe that once we had
One morning woke a roguish lad;
The babe that we had put to bed
Out of our arms and lives had fled.

Frocks vanished from our castle then,
Ne'er to be worn or seen again,
And in his knickerbocker pride
He boasted pockets at each side
And stored them deep with various things-
Stones, tops and jacks and-colored strings;
Then for a time we claimed the joy
Of calling him our little boy.

Brief was the reign of such a spell.
One morning sounded out a bell;
With tears I saw her brown eyes swim
And knew that it was calling him.
Time, the harsh master of us all,
Was bidding him to heed his call;
This shadow fell across life's pool-
Our boy was on his way to school.

Our little boy! And still we dreamed,
For such a little boy he seemed!
And yesterday, with eyes aglow
Like one who has just come to know
Some great and unexpected bliss,
He bounded in, announcing this:
'Oh, Dad! Oh, Ma! Say, what d'you think?
This year we're going to write with ink!'

Here was a change I'd not foreseen,
Another step from what had been.
I paused a little while to think
About this older age of ink-
What follows this great step, thought I,
What next shall come as the time goes by?
And something said: 'His pathway leads
Unto the day he'll write with deeds.'

Edgar Albert Guest (1881-1959)