"MOST GREAT PEOPLE HAVE ACHIEVED THEIR GREATEST SUCCESS JUST ONE STEP BEYOND THEIR GREATEST FAILURE." (BOOKER T. WASHINGTON PART SEVENTEEN)

Booker T. Washington was an American educator, author, orator, and adviser to several presidents of the United States. Between 1890 and 1915, he was the dominant leader of American educational innovation and reform.
This quote from Napoleon Hill describes the way Booker T. Washington approached every adversity he faced in his amazing life: "Most great people have achieved their greatest success just one step beyond their greatest failure." Booker T. Washington never gave up on anything. He just kept going until he was successful.
In 1881, Mr. Washington arrived in Tuskegee to start the first school in Alabama where African American students could receive a post-secondary education to become teachers. He had no school building. Faced with this situation he and the students built the school themselves. The unstoppable Booker T. Washington describes what happened next in his 1901 autobiography, Up From Slavery:
"Our next task was the task of making bricks with no money and no experience. The work was hard and dirty. We had to stand in the mud-pit for hours, with the mud up to our knees.
I soon found that brick making also required special skill and knowledge, particularly in the burning of the bricks. After a good deal of effort, we molded about twenty-five thousand bricks, and put them into a kiln to be burned. This kiln turned out to be a failure because it was not properly constructed or properly burned. We began at once, however, on a second kiln. This, for some reason, also proved a failure.
We succeeded in getting a third kiln ready for burning. The burning of a kiln required about a week. Toward the latter part of the week, when it seemed as if we were going to have a good many thousand bricks in a few hours, in the middle of the night the kiln fell. For the third time we had failed.
The failure of this last kiln left me without a single dollar with which to make another experiment. Most of the teachers advised the abandoning of the effort to make bricks."
Booker T. Washington went to Montgomery and pawned his watch for fifteen dollars.
"I returned to Tuskegee, and, with the help of the fifteen dollars, rallied our forces and began a fourth attempt to make bricks. This time, I am glad to say, we were successful.
Brick making has now become such an important industry at the school that last season our students manufactured twelve hundred thousand of first-class bricks, of a quality suitable to be sold in any market." People came from all over the South to buy their bricks at the Tuskegee Institute.
Booker T. Washington's constant determination makes me want to never quit on anything.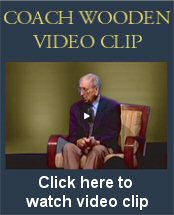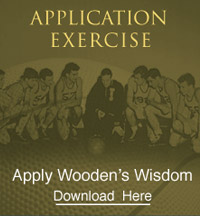 COACH'S FAVORITE POETRY AND PROSE
The Path O' Little Children
The path o' little children is the path I want to tread,
Where green is every valley and every rose is red,
Where laughter's always ringing and every smile is real,
And where the hurts are little hurts that just a kiss will heal.

The path o' little children, on the primrose edge o' life,
That leads away from jealousy and bitterness and strife;
The path that leads to gladness—that's the way I want to go,
Where no one speaks unkindly an' where no one keeps a foe.

The path o' little children that winds o'er hill and dale
An' leads us down to gentle seas where tiny vessels sail;
An' leads us through the barnyard an' through the pasture bars
An' brings us home at evening with hearts that know no scars.

The path o' little children, where peaceful dreams come true,
Where sunshine's always streaming, an' every sky is blue;
Where each one loves the other, an' everyone is fair,
An' cheeks are pink with beauty, an' singing fills the air.

The path o' little children, it's there I want to tread,
Where innocence is dwelling with not a thing to dread;
Where care is not an ogre and sin is but a name,
An' no one thinks of money an' no one sighs for fame.

Edgar Albert Guest (1881-1959)