MY FAVORITE DYNAMIC DUO: BOOKER T. WASHINGTON AND JOHN WOODEN: "DON'T JUST WAIT FOR INSTRUCTIONS" (BOOKER T. WASHINGTON PART TWENTY ONE)

Booker T. Washington was an American educator, author, orator, and adviser to several presidents of the United States. Between 1890 and 1915, he was the dominant leader of American educational innovation and reform.
The two finest teachers of life skills, character development and teamwork I have encountered are Booker T. Washington and John Wooden. Both men accomplished amazing things in their lifetimes and their teachings and beliefs are almost identical.
Both men were people of action not waiting, for someone else to do something for them. Coach Wooden called this trait Initiative which he said was to: "Cultivate the ability to make decisions and think alone. Do not be afraid of failure but learn from it." He added: "The worst thing you can do when action is needed is to take no action at all." and ""The people that don't make mistakes are the people that don't do anything."
In his 1902 book, CHARACTER BUILDING, Mr. Washington describes how he taught the critical importance of not being a person who only acted when given instructions:
"Some people are able to do a thing when they are directed to do it, but people of that kind are not worth very much. There are people in the world who never think, who never map out anything for themselves, who have to wait to be told what to do. People of that kind are not worth anything. They really ought to pay rent for the air they breathe, for they only spoil the quality of it. Now we do not want such people as those here. We want people who are going to think, people who are going to prepare themselves.
The kind of persons we want here are those who are not going to wait for you to tell them to do things, but who will think of them for themselves and do them.
Those who have to wait to have somebody else put ideas into their minds are not worth much of anything. We want you to be thinkers, to be leaders."
When something is not working do you just wait for somebody else to fix it or do you take action?
The only one who can fix your life is you!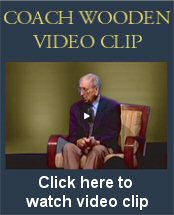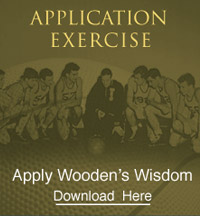 COACH'S FAVORITE POETRY AND PROSE
Worth While
He doesn't care that I'm not rich,
Or that I'm poorly dressed,
That I'm a toiler in the ditch
He hasn't even guessed.
My faults that other people know
He doesn't even see,
For every night with eyes aglow
He toddles up to me.

Although I'm just a common dub,
And ordinary clay,
His cheek to mine he's glad to rub
Before I go away;
And every night when I return,
He's glad as he can be,
And though but little I may earn
He toddles up to me.

To come to me he'd leave a king,
If one were sitting near,
Unto no millionaire he'd cling
If only I'd appear.
And though but tattered rags are mine
When I go home to tea
With eyes that fairly beam and shine
He'd toddle up to me.

And so I've reason to be glad,
And reason to rejoice,
It's worth the world to be a dad,
To be a baby's choice.
There is no prize fame can bestow,
No joy can ever be
So real, as when, with eyes aglow,
He toddles up to me.

Edgar Albert Guest (1881-1959)