MY FAVORITE DYNAMIC DUO: BOOKER T. WASHINGTON AND JOHN WOODEN: "LEADERS ARE READERS." (BOOKER T. WASHINGTON PART THIRTY FOUR)

As a result of their reading habits, Abraham Lincoln became a mentor to Booker T. Washington and John Wooden.
Coach's love of reading was instilled in him as a child by his father, who would read the Scriptures and poetry to his children each evening. Over his lifetime, Coach read countless books, including more than forty books each about his favorite historical figures, Mother Theresa, and Abraham Lincoln. The following is a list of ideas Coach learned from President Lincoln that he applied in his Leadership Philosophy:
"The worst thing you can do for those you love is to do the things they could and should do for themselves."
"It is better to trust and occasionally be disappointed than to mistrust and be miserable all the time."
"I will study and get ready, and perhaps my chance will come."
"I never met a person from whom I did not learn something; of course, most of the time it was something not to do."
"The best thing a father can do for his children is to love their mother."
"People are usually as happy as they make up their mind to be."
"If we magnified our blessings the way we magnify our disappointments, we'd all be a lot happier."
"There is nothing stronger than gentleness."
"Things may come to those who wait, but only the things left by those who hustle."
"You destroy an enemy when you make a friend of him."
In his 1902 book, Character Building, Booker T. Washington made the importance of reading clear to his students:
"You should develop the habit of reading. Any individual who has learned to love good books, to love the best newspapers, the best magazines, and has learned to spend some portion of the day in communication with them, is a happy individual. You should get yourselves to the point where you will not be happy unless you spend a part of each day in this way."
The core leadership values of Booker T. Washington and John Wooden were a direct result, in part, of their reading about Abraham Lincoln. The reading only had value because they applied the lessons directly to their daily behavior. They closed the gap between knowing and doing.
What are you reading every day? How are you applying it to your constantly improving behavior?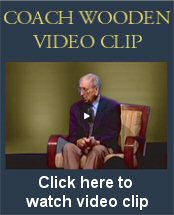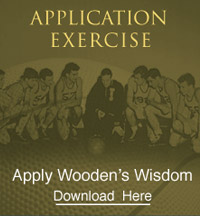 COACH'S FAVORITE POETRY AND PROSE
Sue's Got A Baby
Sue's got a baby now, an' she
Is like her mother used to be;
Her face seems prettier, an' her ways
More settled-like. In these few days
She's changed completely, an' her smile
Has taken on the mother-style.
Her voice is sweeter, an' her words
Are clear as is the song of birds.
She still is Sue, but not the same—
She's different since the baby came.
There is a calm upon her face
That marks the change that's taken place;
It seems as though her eyes now see
The wonder things that are to be,
An' that her gentle hands now own
A gentleness before unknown.
Her laughter has a clearer ring
Than all the bubbling of a spring,
An' in her cheeks love's tender flame
Glows brighter since the baby came.
I look at her an' I can see
Her mother as she used to be.
How sweet she was, an' yet how much
She sweetened by the magic touch
That made her mother! In her face
It seemed the angels left a trace
Of Heavenly beauty to remain
Where once had been the lines of pain
An' with the baby in her arms
Enriched her with a thousand charms.
Sue's got a baby now an' she
Is prettier than she used to be.
A wondrous change has taken place,
A softer beauty marks her face
An' in the warmth of her caress
There seems the touch of holiness,
An' all the charms her mother knew
Have blossomed once again in Sue.
I sit an' watch her an' I claim
My lost joys since her baby came.

Edgar Albert Guest (1881-1959)