MY FAVORITE DYNAMIC DUO: BOOKER T. WASHINGTON AND JOHN WOODEN: "PRACTICE IS EVERYTHING." (BOOKER T. WASHINGTON PART THIRTY FIVE)

The quote "Practice Is Everything" was originated by a Roman Emperor, Periander of Corinth in 600 B.C.
Coach Wooden made this point by reciting this bit of prose from the sportswriter Grantland Rice:
"You wonder how they do it,and you look to see the knack You watch the foot in action, or the shoulder or the back,
But when you spot the answer where the higher glamour lurk,
You'll find in moving higher up the laurel covered spire,
That most of it is practice and the rest of it is work."
In his 1902 book, Character Building, Booker T. Washington made clear to his students that their knowledge only had value if they put it to practice (do the work):
"In the first place you must resolve that you are going to remember the things I am going to say, and in the second place, you must put my suggestions into practice. If you will make up your minds, then, that you are going to hold on to these suggestions, so far as your memory is concerned, and then so far as possible put them into practice, we shall be able to discuss something that will be of profit to you."
On June 16, 2022, Stephen Curry led the Golden State Warriors to the NBA Championship and was the MVP of the NBA Finals. On June 28th he was back in the Warriors Performance Unit training full throttle/maximum effort on his lateral quickness to improve his defense for next season.
Curry is always in the mix for two awards: Most Valuable and Most Improved. Booker T. and Coach Wooden would have loved to have a worker like Stephen Curry on their team.
What do you go full throttle at?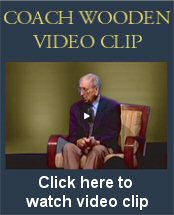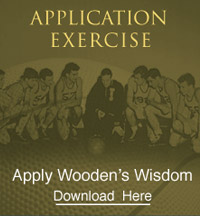 COACH'S FAVORITE POETRY AND PROSE
Real Swimming
I saw him in the distance, as the train went speeding by,
A shivery little fellow standing in the sun to dry.
And a little pile of clothing very near him I could see:
He was owner of a gladness that had once belonged to me.
I have shivered as he shivered, I have dried the way he dried,
I've stood naked in God's sunshine with my garments at my side;
And I thought as I beheld him, of the many weary men
Who would like to go in swimming as a little boy again.

I saw him scarce a moment, yet I knew his lips were blue
And I knew his teeth were chattering just as mine were wont to do;
And I knew his merry playmates in the pond were splashing still;
I could tell how much he envied all the boys that never chill;
And throughout that lonesome journey, I kept living o'er and o'er
The joys of going swimming when no bathing suits we wore;
I was with that little fellow, standing chattering in the sun;
I was sharing in his shivers and a partner of his fun.

Back to me there came the pictures that I never shall forget
When I dared not travel homewards if my shock of hair was wet,
When I did my brief undressing under fine and friendly trees
In the days before convention rigged us up in b.v.d's.
And I dived for stones and metal on the mill pond's muddy floor,
Then stood naked in the sunshine till my blood grew warm once more.
I was back again, a youngster, in those golden days of old,
When my teeth were wont to chatter and my lips were blue with cold.

Edgar Albert Guest (1881-1959)