MY FAVORITE DYNAMIC DUO: BOOKER T. WASHINGTON AND JOHN WOODEN: "CONTROL YOUR TEMPER. DON'T LET IT CONTROL YOU." (BOOKER T. WASHINGTON PART THIRTY-SIX)

Booker T. Washington and John Wooden were expert in their ability to maintain self-control. Self-Control was a focal point in what they taught their students by example and with words.
Coach Wooden felt the most important word in the dictionary is love and the second most important word is balance. He insured that his players were in excellent condition not only physically, but also emotionally. This complete conditioning enabled his players to maintain their emotional balance in high pressure situations. Coach felt this was an essential quality that contributed to their collective success.
The leader who routinely "flies off the handle" will never truly have the complete respect of her/his followers. The unfortunate thing is that some leaders sometimes believe they are being effective with their emotional outbursts; not realizing they could be more effective if they could "control their temper."
We can damage ourselves with uncontrolled/ unanalyzed anger whether we are verbalizing it or not. When you feel anger, talk to yourself and ask "Why am I feeling anger? What positive/productive result will I get from this uncontrolled, negative emotion?" Analyze it and get rid of it.
In his 1902 book, Character Building, Booker T. Washington made the importance of self-control clear to his students:
"Learn to speak kindly to every individual, white or black. No person loses anything by learning to be polite, by treating the most unfortunate individual with the highest deference. We want you to learn to control your temper. Someone has said that the difference between an animal and a man is that the beast has no method of learning to control his temper. With the individual, the human being, there is education and training. A person learns to master themself, to have an even temper; learns to master their temper completely. Now if any of you have a temper that often gets to be your master, make up your mind that it is a part of your duty here to learn to control it. Step upon it, as it were, and say: "I will be master of my temper, instead of letting it be my master."
You are either under your own control or under the control of others.
What is your choice? How is your emotional balance?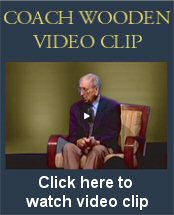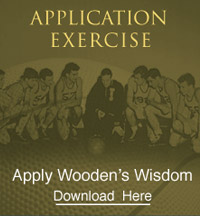 COACH'S FAVORITE POETRY AND PROSE
The Fisherman
Along a stream that raced and ran
Through tangled trees and over stones,
That long had heard the pipes o' Pan
And shared the joys that nature owns,
I met a fellow fisherman,
Who greeted me in cheerful tones.

The lines of care were on his face.
I guessed that he had buried dead;
Had run for gold full many a race,
And kept great problems in his head,
But in that gentle resting place
No word of wealth or fame he said.

He showed me trout that he had caught
And praised the larger ones of mine;
Told me how that big beauty fought
And almost broke his silken line;
Spoke of the trees and sky, and thought
Them proof of life and power divine.

There man to man we talked of trees
And birds, as people talk of men;
Discussed the busy ways of bees
Wondered what lies beyond our ken;
Where is the land no mortal sees,
And shall we come this way again.

'Out here,' he told me, with a smile,
'Away from all the city's sham,
The strife for splendor and for style,
The ticker and the telegram
I come for just a little while
To be exactly as I am.'

Foes think the bad in him they've guessed
And prate about the wrong they scan;
Friends that have seen him at his best
Believe they know his every plan;
I know him better than the rest,
I know him as a fisherman.

Edgar Albert Guest (1881-1959)