"ACCURATE SELF-EVALUATION" (DEL HARRIS PART THREE)

In September of 2022, legendary coach Del Harris will be inducted into the Naismith Basketball Hall of Fame. Over sixty years Coach Harris has displayed excellence at every level, first as a player, then as a High School, College, NBA, and International Coach.
In his excellent book, On Point: Four Steps To Better Life Teams, Coach Harris, using the analogy of a point guard, describes the importance of being to evaluate yourself accurately:
"Good point guards must be realistic about their abilities in order to improve. They look at results in an objective way. Learning about ourselves is an important step in the process of gathering information as we prepare for the tasks in our mission. It is an operation that generally proves to be quite difficult.
Many studies have demonstrated the absurdity of people's attempts at self-evaluation. In his book, When the Game is Over, It All Goes Back in the Box, Daniel Ortberg highlights studies that speak directly to our predilection for self-deception.
In one survey, 800,000 high-school students were asked to rate themselves above or below average in social skills. Obviously, a true breakdown would end up with a roughly 50–50 divide. However, all 800,000 rated themselves above average and 25 percent said they were in the top 1 percent.
In another survey 88 percent of college professors rated themselves above average. Out of 200 sociologists, more than 100 rated themselves in the top 10 percent in the world. In another survey 90 percent of pastors rated themselves in the top half as well. The picture is pretty clear.
In this context it is easy to see that point guards who are not realistic and honest in their self-evaluation may find fault with everyone else when things are not going well. They can blame the big players for not rebounding, the shooters for missing shots, the other players for not defending, or the coach for being inept. Obviously, this kind of thinking will defeat them and their teams.
Certainly, good point guards will not be blind to the errors of others and will try to motivate them to do better, but they will examine themselves and see, first of all, what they can do to help matters. This is what each Life-Team needs from its members, and the more team members who can develop this quality in themselves, the more likely the team will improve. One person can make a difference, and several people with a common aim can perform miracles."
This simple truth has and continues to cause some teams in all fields to not reach their potential.
Do you evaluate yourself accurately?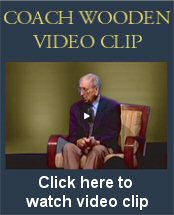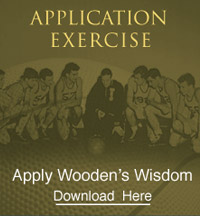 COACH'S FAVORITE POETRY AND PROSE
The Dull Road
It's the dull road that leads to the gay road;
The practice that leads to success;
The work road that leads to the play road;
It is trouble that breeds happiness.

It's the hard work and merciless grinding
That purchases glory and fame;
It's repeatedly doing, nor minding
The drudgery drear of the game.

It's the passing up glamor or pleasure
For the sake of the skill we may gain,
And in giving up comfort or leisure
For the joy that we hope to attain.

It's the hard road of trying and learning,
Of toiling, uncheered and alone,
That wins us the prizes worth earning,
And leads us to goals we would own.

Edgar Albert Guest (1881-1959)