"BLENDING INDIVIDUAL AND TEAM GOALS" (DEL HARRIS PART FOUR)

In September of 2022, legendary coach Del Harris will be inducted into the Naismith Basketball Hall of Fame. Over sixty years Coach Harris has displayed excellence at every level, first as a player, then as a High School, College, NBA, and International Coach.
In his excellent book, On Point: Four Steps To Better Life Teams, Coach Harris, using the analogy of a point guard, describes the importance of blending individual and team goals:
"It is not selfish for each player to have personal goals. However, each player must practice and play in ways that are consistent with the overall objective.
All the top performers dreamed of individual successes before they achieved them. This is not a selfish act. Each individual must harbor personal ambitions. These images stir a player to make the extra effort in practices as well as make various sacrifices in outside activities and choices.
The winning players constantly push themselves to improve. They set short-range targets for themselves as measuring sticks. If one area of their game has slipped over the past few games, they set goals to improve in the upcoming games. While common purpose is the essence of a mission, each role-player needs individual aims to help drive him or her and the mission forward. Improved individual performances energize the team and give support to the mission.
However, point guards can never let desire for selfish personal statistics override responsibility to the team. Each individual's purpose should align with the overall team mission. That is what is done by anyone who wants to be a good influence on a Life-Team."
A leader should talk to each individual and find out what their "non team related" individual goals are for their professional performance and personal life. Then discuss the goals of the team. In both cases a defined time frame for these goals should be agreed on (might be six months or one year).
Individuals should understand that their individual goals have a better chance of being reached if the group does well. The leader and individual then agree upon how the individual and team goals will blend.
In the 2021-22 season Stephen Curry (leading scorer for the Championship Team) led all NBA guards in screen assists (using his body to get a teammate open).
Do your top performers improve the individual performance of others?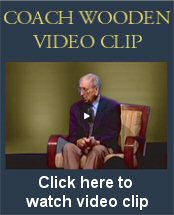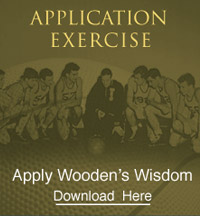 COACH'S FAVORITE POETRY AND PROSE
It Isn't Costly
Does the grouch get richer quicker than the friendly sort of man?
Can the grumbler labor better than the cheerful fellow can?
Is the mean and churlish neighbor any cleverer than the one
Who shouts a glad 'good morning,' and then smiling passes on?

Just stop and think about it. Have you ever known or seen
A mean man who succeeded, just because he was so mean?
When you find a grouch with honors and with money in his pouch,
You can bet he didn't win them just because he was a grouch.

Oh, you'll not be any poorer if you smile along your way,
And your lot will not be harder for the kindly things you say.
Don't imagine you are wasting time for others that you spend:
You can rise to wealth and glory and still pause to be a friend.

Edgar Albert Guest (1881-1959)