"THE ULTIMATE TEAMMATE" (DEL HARRIS PART FIVE)

In September of 2022, legendary coach Del Harris will be inducted into the Naismith Basketball Hall of Fame. Over sixty years Coach Harris has displayed excellence at every level, first as a player, then as a High School, College, NBA, and International Coach.
In his excellent book, On Point: Four Steps To Better Life Teams, Coach Harris, using the analogy of a point guard, describes two unique qualities "The Ultimate Teammate" has. I have listed Coach Harris's original writing in Italics and my workplace application in block lettering in parenthesis.
"Beyond honest self-criticism, point guards who are serious about becoming the best will work with the coaching staff and/or respected teammates in evaluating their performance." (It is a rare manager who will proactively seek input from her/his employees on how they themselves, the manager, can improve. The employee must be confident that their input, if not anonymous, will not have negative repercussions and that the manager's sole motivation is to improve.)
"The point guard's unselfish and encouraging attitude can influence the attitude of the entire group. That is a good start, but the point guard is at his effective best when persistent, reminding teammates of their mission and getting their commitment to the program. The point guard is an encourager and a team builder.
Players will sometimes seek to divorce themselves from the team when things go badly and promote themselves as the answer to the team's problems. A point man must be effective in keeping team chemistry in balance. He will encourage the individual who is feeling discouraged and continue to strive to maintain team unity. This same dynamic occurs daily in businesses, homes, churches, and other institutions. It takes someone who is prepared and ready to be influential to step to the front and prevent a potentially devastating confrontation. We must all prepare to be that peacemaker on our Life-Teams." (The "Ultimate Teammate" seeks out the disgruntled team member and tries to get her/him back on track even if they are in direct competition with them.)
Are you an "Ultimate Teammate"?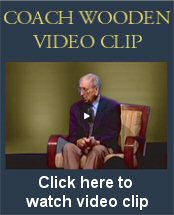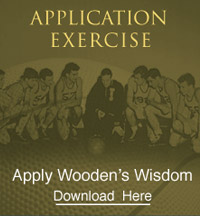 COACH'S FAVORITE POETRY AND PROSE
The Epicure
I've sipped a rich man's sparkling wine,
His silverware I've handled.
I've placed these battered legs of mine
'Neath tables gayly candled.
I dine on rare and costly fare
Whene'er good fortune lets me,
But there's no meal that can compare
With those the missus gets me.

I've had your steaks three inches thick
With all your Sam Ward trimming,
I've had the breast of milk-fed chick
In luscious gravy swimming.
To dine in swell cafe or club
But irritates and frets me;
Give me the plain and wholesome grub —
The grub the missus gets me.

Two kiddies smiling at the board,
The cook right at the table,
The four of us, a hungry horde,
To beat that none is able.
A big meat pie, with flaky crust!
'Tis then that joy besets me;
Oh, I could eat until I 'bust,'
Those meals the missus gets me.

Edgar Albert Guest (1881-1959)