FOUR "P'S" THAT SUCCESS REQUIRES (DEL HARRIS PART SEVEN)

Last Saturday, September 10th, 2022, legendary coach Del Harris was inducted into the Naismith Basketball Hall of Fame. Over sixty years Coach Harris has displayed excellence at every level, first as a player, then as a High School, College, NBA, and International Coach.
In his excellent book, On Point: Four Steps To Better Life Teams, Coach Harris describes the process of developing the skills required for successful leadership:
"The problem is that some people try to force their way to the front, and they push people away from them instead. Leading is not only something to be learned but earned. Effective leadership starts from the inside and works outward. It begins by making certain internal commitments. Leadership is a learnable skill and a major factor in influencing our Life-Teams."
In his book, Coach Harris uses the diagram of a wheel illustrating required internal qualities for leadership in a clockwise sequence. The first quality is Passion followed by Preparation resulting in Confidence and Enthusiasm that will sustain the Patience required for Persistence needed for Creative Execution. Inspired by Coach Harris, I have referred to these as "Four "P's" That Success Requires". Coach Harris put it this way:
"The initial passion for a mission must be followed by intelligent preparation, the gathering of knowledge through study and experience. Knowledge promotes the confidence to move ahead. Enthusiasm breeds the patience to endure setbacks and difficulties. Following this process with persistence enables us to find creative ways to execute whatever it takes to complete our intended goal or mission.
These are not isolated entities that can be developed separately. They cannot stand alone or even be followed out of order and still be effective, in my opinion. They are interrelated, connective parts that work together to produce a great result within someone who is striving to reach a goal or achieve a mission. For example, one cannot start in the middle of the circle by focusing on patience and expect to reach a great goal. She or He may wait a lifetime. Patience won't develop in a vacuum, nor will persistence. There is a domino effect in this process, as one characteristic in the wheel follows another, feeding off the former spoke and supplying energy to the next."
Do you have all "Four P's" and are you keeping them in proper order?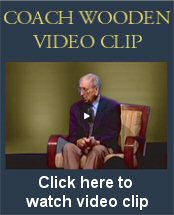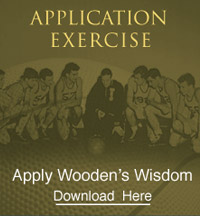 COACH'S FAVORITE POETRY AND PROSE
Real Singing
You can talk about your music, and your operatic airs,
And your phonographic record that Caruso's tenor bears;
But there isn't any music that such wondrous joy can bring
Like the concert when the kiddies and their mother start to sing.

When the supper time is over, then the mother starts to play
Some simple little ditty, and our concert's under way.
And I'm happier and richer than a millionaire or king
When I listen to the kiddies and their mother as they sing.

There's a sweetness most appealing in the trilling of their notes:
It is innocence that's pouring from their little baby throats;
And I gaze at them enraptured, for my joy's a real thingv Every evening when the kiddies and their mother start to sing.

Edgar Albert Guest (1881-1959)