"POSITIVE ENVIRONMENT = GOOD CULTURE" (DEL HARRIS PART TEN)

In September of 2022, legendary coach Del Harris was inducted into the Naismith Basketball Hall of Fame. Over sixty years Coach Harris has displayed excellence at every level, first as a player, then as a High School, College, NBA, and International Coach.
In his excellent book, On Point: Four Steps To Better Life Teams, Coach Harris does a wonderful job of identifying the key elements needed for a positive team environment in order of importance:
"Regardless of our roles on our various Life-Teams, we want to be influential at some level—that is, no normal person prefers to be perpetually ignored.
While it is not necessary or possible for every endeavor to succeed, if a point person can keep the overall environment positive, the team will survive the ups and downs and be in a better position to win.
A properly integrated person contributes to a good working environment as a good role player or an emerging leader. They seek to know their associates' personal contexts and helps them improve their performance through attention to detail and proper mentoring when appropriate. When able to do so, a good influencer offers his teammates the opportunity to share a measure of authority and gives affirmation for the good work they do as well as for the people they are becoming. All this perpetuates and fortifies the positive environment.
Each individual has personal issues, and we refer to that as personal context. This personal context refers to everything that is unique to someone at any given time. It involves factors such as health, family problems, financial questions, and whatever weighs upon that person's mind and may affect that person's attitudes and conduct."
On a daily basis, a leader should know when a team member is having personal or physical issues that may affect their performance.
Coach Wooden sat courtside thirty minutes prior to every practice to be available for his players to talk to him. Carmel Stevens, an outstanding Business leader, is in his office thirty minutes early every day for the same reason.
Both Coach Wooden and Carmel had/have the pulse of their team members daily "personal context" and thus could/can coach them more effectively with appropriate expectations.
How do you gage the daily "Personal Context" of your team members?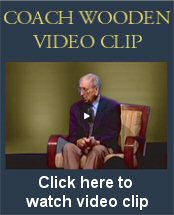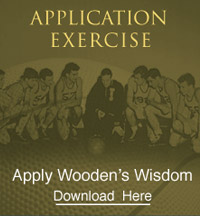 COACH'S FAVORITE POETRY AND PROSE
The Bumps and Bruises Doctor
I'm the bumps and bruises doctor;
I'm the expert that they seek
When their rough and tumble playing
Leaves a scar on leg or cheek.
I'm the rapid, certain curer
For the wounds of every fall;
I'm the pain eradicator;
I can always heal them all.

Bumps on little people's foreheads
I can quickly smooth away;
I take splinters out of fingers
Without very much delay.
Little sorrows I can banish
With the magic of my touch;
I can fix a bruise that's dreadful
So it isn't hurting much.

I'm the bumps and bruises doctor,
And I answer every call,
And my fee is very simple,
Just a kiss, and that is all.
And I'm sitting here and wishing
In the years that are to be,
When they face life's real troubles
That they'll bring them all to me.

Edgar Albert Guest (1881-1959)