"IMPROVEMENT REQUIRES DETAILS, NOT JUST OLD PEP TALKS" (DEL HARRIS PART ELEVEN)

In September of 2022, legendary coach Del Harris was inducted into the Naismith Basketball Hall of Fame. Over sixty years Coach Harris has displayed excellence at every level, first as a player, then as a High School, College, NBA, and International Coach.
In his excellent book, On Point: Four Steps To Better Life Teams, Coach Harris does a wonderful job of identifying the key elements needed for a Coach to improve a team:
"It is not enough to be simply a motivator who gets someone to try harder. That helps, but it doesn't last. There will come a day when the motivator will run out of speeches like "Win one for the Gipper" or emotional buttons to push.
One big difference between good point guards and great ones is attention to detail. While exhibiting this attention to detail, however, they must also keep the process alive and interesting.
They can't help a player or a worker to do better if they do not pay attention to the little things. If they are not doing the big things well, they probably should not be on the team in the first place.
You can't build anything of lasting value on a bad foundation. For example, when they examined the Titanic, they found that it sank for lack of attention to detail. Engineers installed bolts that were smaller than specified for the hull, thinking a small item like that would be of little consequence.
In his book How NASA Builds Teams, Robert Pellerin explains the initial failure of the Titanic and that of the $1.7 billion Hubble space telescope. After the Hubble space telescope had been written off as a colossal government failure, Pellerin's unauthorized continual pursuit of a solution to the problem led him to identify and remove a small speck from the giant mirror, an action that led to the revival of the venture. The minute imperfection had been magnified as it was beamed into space.
Getting people to listen is the first step. Getting them to try is the next step. In the end, positive results have to manifest themselves within a reasonable time if you want to maintain your audience."
Are you paying attention to the little things?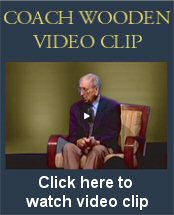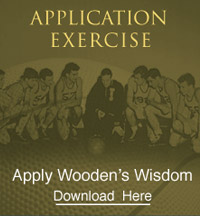 COACH'S FAVORITE POETRY AND PROSE
The First Steps
Last night I held my arms to you
And you held yours to mine
And started out to march to me
As any soldier fine.
You lifted up your little feet
And laughingly advanced;
And I stood there and gazed upon
Your first wee steps, entranced.

You gooed and gurgled as you came
Without a sign of fear;
As though you knew, your journey o'er,
I'd greet you with a cheer.
And, what is more, you seemed to know,
Although you are so small,
That I was there, with eager arms,
To save you from a fall.

Three tiny steps you took, and then,
Disaster and dismay!
Your over-confidence had led
Your little feet astray.
You did not see what we could see
Nor fear what us alarms;
You stumbled, but ere you could fall
I caught you in my arms.

You little tyke, in days to come
You'll bravely walk alone,
And you may have to wander paths
Where dangers lurk unknown.
And, Oh, I pray that then, as now,
When accidents befall
You'll still remember that I'm near
To save you from a fall.

Edgar Albert Guest (1881-1959)