"SHARING AUTHORITY" (DEL HARRIS PART THIRTEEN)

In September of 2022, legendary coach Del Harris was inducted into the Naismith Memorial Basketball Hall of Fame. Over sixty years, Coach Harris has displayed excellence at every level, first as a player, then as a High School, College, NBA, and International Coach.
Coach Harris and Coach Wooden both believed in the idea of: "Sharing Authority". In his excellent book, On Point: Four Steps To Better Life Teams, Coach Harris does a wonderful job of discussing this topic:
"Once in charge, to some degree, those who exercise good leadership skills understand the value of promoting some level of ownership in the program by sharing authority with team members when appropriate. This takes a bit of humility on the part of those who want to be leaders, but that can be developed over time. It ultimately requires sacrificing personal ego while expanding that of others—always a good plan if done with competent people."
In Coach Wooden's book with Steve Jamison, Coach Wooden's Leadership Game Plan for Success, a former player, Bill Hicks (1960-62), gave an example of Coach Wooden "Sharing Authority":
"One of our top players—maybe our best—got upset about something during practice one day and stormed off the court. This put Coach Wooden in an awkward position because he didn't want to lose the guy. We didn't exactly have a lot of talent to spare.
Coach solved the problem by telling the player who had blown up and walked off the court that he was suspended. However, he then informed the suspended player that our whole team would be allowed to vote on whether or not to let him return. This allowed everybody to save face. It also empowered the team because it felt like we got in on the decision. Of course, we voted to let him back. Coach had solved his problem, disciplined the player, and strengthened our team all at the same time."
Do you ever share authority?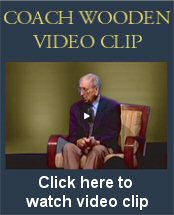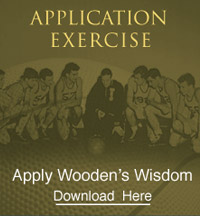 COACH'S FAVORITE POETRY AND PROSE
My Land
My land is where the kind folks are,
And where the friends are true,
Where comrades brave will travel far
Some kindly deed to do.
My land is where the smiles are bright
And where the speech is sweet,
And where men cling to what is right
Regardless of defeat.
My land is where the starry flag
Gleams brightly in the sun;
The land of rugged mountain crag,
The land where rivers run,
Where cheeks are tanned and hearts are bold
And women fair to see,
And all is not a strife for gold—
That land is home to me.
My land is where the children play,
And where the roses bloom,
And where to break the peaceful day
No flaming cannons boom.
My land's the land of honest toil,
Of laughter, dance and song,
Where harvests crown the fertile soil
And thoughtful are the strong.
My land's the land of many creeds
And tolerance for all
It is the land of 'splendid deeds
Where men are seldom small.
And though the world should bid me roam,
Its distant scenes to see,
My land would keep my heart at home
And there I'd always be.

Edgar Albert Guest (1881-1959)