"HONEST FEEDBACK CREATES TRUST" (DEL HARRIS PART FIFTEEN)

In September of 2022, legendary coach Del Harris was inducted into the Naismith Memorial Basketball Hall of Fame. Over sixty years, Coach Harris has displayed excellence at every level, first as a player, then as a High School, College, NBA, and International Coach.
Coach Harris, in his excellent book, On Point: Four Steps To Better Life Teams, does a wonderful job of describing how "Honest Feedback Creates Trust":
"Encouragement is a good, infectious quality. Of course, everything that happens on the court, or in life, is not okay. Positive responses are not always appropriate. Providing trophies for everyone hasn't worked out all that well in youth sports, for instance. Good mentoring also requires the identification and correction of mistakes.
A point person's overall approach should have an aura of positivism mixed with realism that is necessary when breakdowns need to be addressed. We need both kinds of input.
We all should be encouragers as leaders or role players on our various teams, but always in an appropriate context. We should be encouragers when it is time to encourage and applauders when it is time to applaud. But to offer giddy cheers like a spirit-squad member, regardless of performance quality, will take away from those times the team player really deserves recognition for a job well done. And it will give mixed signals to one who needs correction along with a measure of encouragement."
The skill of being able to correct in a direct manner without antagonizing requires you maintain your self-control and correct the behavior of the person without attacking their intent or character.
Self-control is also required to ensure that you are giving compliments that are deserved for a task well done or an excellent effort, not simply to "cheer somebody up."
Combining these two skills will make you a person who can be trusted for the truth.
How do you your team members feel about you?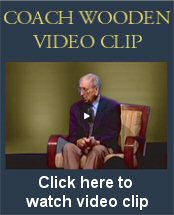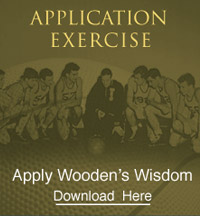 COACH'S FAVORITE POETRY AND PROSE
The Little Velvet Suit
Last night I got to thinkin' of the pleasant long ago,
When I still had on knee breeches, an' I wore a flowing bow,
An' my Sunday suit was velvet. Ma an' Pa thought it was fine,
But I know I didn't like it—either velvet or design;
It was far too girlish for me, for I wanted something rough
Like what other boys were wearing, but Ma wouldn't buy such stuff.

Ma answered all my protests in her sweet an kindly way;
She said it didn't matter what I wore to run an' play,
But on Sundays when all people went to church an wore their best,
Her boy must look as stylish an' as well kept as the rest.
So she dressed me up in velvet, an' she tied the flowing bow,
An' she straightened out my stockings, so that not a crease would show.

An' then I chuckled softly to myself while dreaming there
An' I saw her standing o'er me combing out my tangled hair.
I could feel again the tugging, an' I heard the yell I gave
When she struck a snarl, an' softly I could hear her say: 'Be brave.
'Twill be over in a minute, and a little man like you
Shouldn't whimper at a little bit of pain the way you do.'

Oh, I wouldn't mind the tugging at my scalp lock, and I know
That I'd gladly wear to please her that old flowing girlish bow;
And I think I'd even try to don once more that velvet suit,
And blush the same old blushes, as the women called me cute,
Could the dear old mother only take me by the hand again,
And be as proud of me right now as she was always then.

Edgar Albert Guest (1881-1959)