"EVALUATE YOUR TEAM AND YOURSELF" (DEL HARRIS PART SIXTEEN)

In September of 2022, legendary coach Del Harris was inducted into the Naismith Memorial Basketball Hall of Fame. Over sixty years, Coach Harris has displayed excellence at every level, first as a player, then as a High School, College, NBA, and International Coach.
Coach Harris, in his excellent book, On Point: Four Steps To Better Life Teams, does a wonderful job of detailing a four part (four wheel) checklist (system) you can use to evaluate yourself and your team. Here are the first two parts:
"The initial passion for a mission must be followed by intelligent preparation, the gathering of knowledge through study and experience. Knowledge promotes the confidence to move ahead.
Enthusiasm breeds the patience to endure setbacks and difficulties. Following this process with persistence enables us to find creative ways to execute whatever it takes to complete our intended goal or mission.
The action in the second wheel starts when that commitment to being others-oriented is demonstrated. Proving that you care is the first piece of evidence that must be exhibited on the outside. As individuals perform their roles on a team, in a family, or in a business, they must establish operational relationships.
These relationships may grow as people acknowledge their interdependence with other team members. People on all sides will acknowledge the value of others to at least a functional extent. People who express a degree of humility and are willing to acknowledge such dependence will generate reasonably effective communication with the team.
As each person continues to show appreciation for the value of others' contributions, communication becomes easier and more frequent. This engenders the potential for continuing cooperation. The team members become more comfortable and work together to promote a successful outcome in this scenario. People see that the system works and this provides validation for what they are doing individually and as a unit."
Evaluate yourself and your team on the qualities in bold type.
Where can you be more consistent?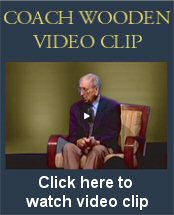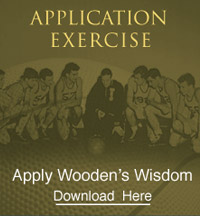 COACH'S FAVORITE POETRY AND PROSE
The Pathway of The Living
The pathway of the living is our ever-present care.
Let us do our best to smooth it and to make it bright and fair;
Let us travel it with kindness, let's be careful as we tread,
And give unto the living what we'd offer to the dead.

The pathway of the living we can beautify and grace;
We can line it deep with roses and make earth a happier place.
But we've done all mortals can do, when our prayers are softly said
For the souls of those that travel o'er the pathway of the dead.

The pathway of the living all our strength and courage needs,
There we ought to sprinkle favors, there we ought to sow our deeds,
There our smiles should be the brightest, there our kindest words be said,
For the angels have the keeping of the pathway of the dead.

Edgar Albert Guest (1881-1959)