A GOOD EXAMPLE IS A GREAT TEACHER

John Wooden's Basketball Teams were well known for always leaving their locker rooms nicer than the way they found them after games. Over the years Coach received many letters from custodians at other schools thanking him for his team's consideration. Coach always read these letters aloud to the entire team.
The task of cleaning up the locker room after a game was not assigned to the student managers. After the team had showered, Coach Wooden would come to the locker room and begin cleaning up himself. The players, seeing their coach in the shower, in his dress suit, bending over to put soap left on the floor back in the soap dispenser was a good example. The players immediately would jump in and begin helping with the post-game clean up, chiming in "We got this Coach". Coach Wooden would nod and smile but just continue his own work of making their locker room spotless as he and the players worked side-by-side.
It would be great to see all the coaches and players (at every level, in every sport) return to their team benches after the handshake lines and pick up all the trash under their chairs (even trash that's not their own) and straighten all the chairs instead of leaving it for somebody else to clean up after them. We call this "Clean it up. Pick it up."
I would love to see "Clean it up. Pick it up" become a national habit. If high profile coaches and players participated, I know our youngsters would follow their example.
Will you help me please?
If you do this, please send me a picture or video I can use.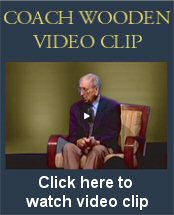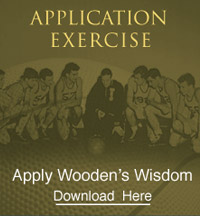 COACH'S FAVORITE POETRY AND PROSE
The Alarm
Get off your downy cots of ease,
There's work that must be done.
Great danger's riding on the seas.
The storm is coming on.
Don't think that it will quickly pass.
Who smiles at distant fate,
And waits until it strikes, alas!
Has roused himself too late.

Who thinks the fight will end before
The need of him arrives,
Is lengthening this brutal war
And costing many lives.
For over us that storm shall break
Ere many weeks have fled,
And we shall pay for our mistake
In fields of mangled dead.

Be ready when the foe shall near,
Be there to strike him hard;
Let us, though he be miles from here,
Be standing now on guard.
To-morrow's victories won't be won
By pluck that we display
To-morrow when the foe comes on,
But by our work to-day.

Edgar Albert Guest (1881-1959)