GREAT TEAMWORK STARTS WITH INDIVIDUAL EXCELLENCE (BILL WALSH)

Bill Walsh is regarded as one of the greatest coaches in NFL history. He is one of four coaches in NFL history to win three or more Super Bowls.
When Walsh took over the 49ers in 1979, they were a rag tag bunch that had gone 2-14 the previous season. He immediately implemented performance standards for every individual in the organization. In his excellent book with Steve Jamison and Craig Walsh, The Score Takes Care of Itself, Walsh describes it this way:
"My Standard of Performance applied to marketing, office personnel, and everyone else with the details applicable to their jobs. All of this increasingly demonstrated to others and to ourselves that we were on top of things, neither sloppy nor inattentive, and contributed to a greatly heightened sense of "this is who we are."
It meant you were part of an organization that had high expectations of itself and of you, whether you were a superstar or a secretary, manager or maintenance man, athlete, executive, or head coach."
More quickly than you might imagine, a transformation occurred in the quality of the team's attitudes and actions. An environment developed in which adherence to the details of our Standard of Performance became second nature as we worked to become absolutely first class in every possible way on and off the field. Maintenance workers, ticket takers, parking lot attendants and anyone receiving a paycheck with the emblem of the San Francisco 49ers on it were instructed as to the requirements of their own job's Standard of Performance and expected to measure up.
In fact, to encourage positive thinking, pride, and self-esteem, I insisted that specific equipment carrying the emblem of the San Francisco 49ers be treated with respect. For example, players were told their practice helmets, which carried our emblem, should never be tossed around, sat on, or thrown in the bottom of their lockers: "Wear it, hold it, or put it on the shelf in your locker."
How do your team members treat their equipment? What do they think of themselves?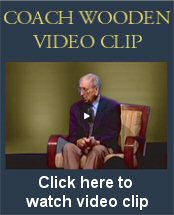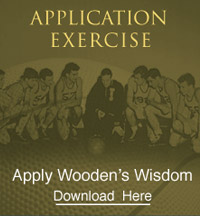 COACH'S FAVORITE POETRY AND PROSE
The Girl He Left Behind
We used to think her frivolous—you know how
parents are,
A little quick to see the faults and petty flaws
that mar
The girl their son is fond of and may choose
to make his wife,
A little overjealous of the one who'd share his
life;
But the girl he left behind him when he bravely
marched away
Has blossomed into beauty that we see and need
to-day.

She was with us at the depot, and we turned our
backs a-while,
And her eyes were sad and misty, though she
tried her best to smile.
Then she put her arm round mother, and it
seemed to me as though
They just grew to love each other, for they
shared a common woe.
Now she often comes to see us, and it seems
to me we find
A heap of solid comfort in the girl he left behind.

'She's so sensible and gentle,' mother said last
night to me,
'The kind of girl I've often wished and prayed
his wife would be.
And I like to have her near us, for she understands
my sighs
And I see my brave boy smiling when I look into
her eyes.'
Now the presence of his sweetheart seems to fill
our home with joy.
She's no longer young and flighty—she's the
girl who loves our boy.

Edgar Albert Guest (1881-1959)