HELPING OTHERS IS A GREAT PERSONAL GOAL (HARRIET TUBMAN)

Harriet Tubman (1822 - 1913) is an extraordinary American hero. Harriet was born into slavery. In 1849 she escaped from slavery in Maryland using the network known as the Underground Railroad. This informal system was composed of free and enslaved black people, white abolitionists, and other activists. The journey of nearly 90 miles to freedom by foot would have taken between five days and three weeks.
Tubman had to travel by night, guided by the North Star and try to avoid slave catchers eager to collect rewards for fugitive slaves. She crossed into freedom in Pennsylvania with a feeling of relief and awe, and recalled the experience years later:
"When I found I had crossed that line, I looked at my hands to see if I was the same person. There was such a glory over everything; the sun came like gold through the trees, and over the fields, and I felt like I was in Heaven."
After reaching Philadelphia, Tubman thought of her family. "I was a stranger in a strange land," she said later. "My father, my mother, my brothers, and sisters, and friends were [in Maryland]. But I was free, and they should be free." She worked odd jobs in Philadelphia for six months at a time to save the money needed to finance her return trips to rescue others.
Over 11 years, risking her life each time and with a cash reward posted for her capture, Tubman returned repeatedly to the Eastern Shore of Maryland, rescuing some 70 slaves in about 13 expeditions, including some of her family members but primarily rescuing people she didn't know. She also provided specific instructions to 50 to 60 additional fugitives who escaped to the north. Because of her efforts, she was nicknamed "Moses".
When Harriet Tubman arrived in Philadelphia, she had achieved the personal goal of getting her freedom. But rather than just staying in Philadelphia and building a comfortable life for herself she chose to pursue a different type of "Personal Goal": Helping Others.
What's on your personal goal list?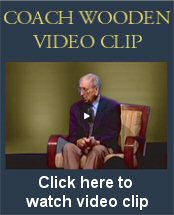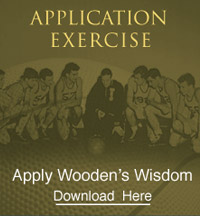 COACH'S FAVORITE POETRY AND PROSE
I Follow A Famous Father
I follow a famous father,
His honor is mine to wear;
He gave me a name that was free from shame,
A name he was proud to bear.
He lived in the morning sunlight,
And marched in the ranks of right.
He was always true to the best he knew
And the shield that he wore was bright.

I follow a famous father,
And never a day goes by
But I feel that he looks down to me
To carry his standard high.
He stood to the sternest trials
As only a brave man can;
Though the way be long, I must never wrong
The name of so good a man.

I follow a famous father,
Not known to the printed page,
Nor written down in the world's renown
As a prince of his little age.
But never a stain attached to him
And never he stooped to shame;
He was bold and brave and to me he gave
The pride of an honest name.

I follow a famous father,
And him I must keep in mind;
Though his form is gone, I must carry on
The name that he left behind.
It was mine on the day he gave it,
It shone as a monarch's crown,
And as fair to see as it came to me
It must be when I pass it down.

Edgar Albert Guest (1881-1959)