"I MUST GOVERN THE CLOCK, NOT BE GOVERNED BY IT." (GOLDA MEIR)

Golda Meir (May 3, 1898 –December 8, 1978) served as the fourth Prime Minister of Israel from 1969 to 1974. She was Israel's first and only female head of state, the first female head of state in the Middle East, and the fourth elected female head of state in the world. Meir also served as labor minister and foreign minister. Known for her intellect, she was an activist, risk-taker, tremendous fundraiser, eloquent advocate and in many regards a visionary. She was also one of the founders of the Jewish state.
Golda Meir was born in Kiev, Ukraine. At the age of eight she moved with her family to Milwaukee. She was educated in public schools. In 1921 she migrated with her husband to a primitive pioneer settlement in Palestine, where she raised poultry by day and studied Hebrew and Arabic by night. In forty-eight years, she rose from poverty to Prime Minister.
One of my favorite Golda Meir quotes is "I must govern the clock, not be governed by it."
In 1973, as Prime Minister, Israel was on the verge of attack by Syria and Egypt in what became "The Yom Kippir War". Her advisers urged her to strike first! Applying her principle, "I must govern the clock, not be governed by it.", she refused. It was a very unpopular decision at the time.
She approved full-scale mobilization but rejected a preemptive strike, citing concerns that if Israel initiated hostilities, it would prevent Israel's access to crucial foreign aid and military support from the United States.
Her calmness and restraint paid off. With aid from the United States, Israel successfully defended themselves. U.S. Secretary of State Henry Kissinger later confirmed Meir's assessment by stating that if Israel had launched a preemptive strike, Israel would not have received "so much as a nail".
This resolution ultimately led to the subsequent 1979 Egyptian–Israeli peace treaty, which marked the first instance of an Arab country recognizing Israel as a legitimate state.
Do you govern the clock or does it govern you?
As Coach Wooden would remind us: "Be quick but don't hurry".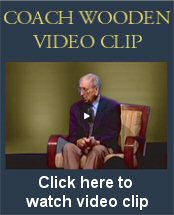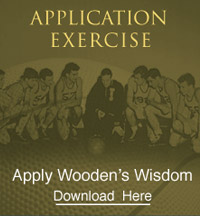 COACH'S FAVORITE POETRY AND PROSE
When We're All Alike
I've trudged life's highway up and down;
I've watched the lines of men march by;
I've seen them in the busy town,
And seen them under country sky;
I've talked with toilers in the ranks,
And walked with men whose hands were white,
And learned, when closed were stores and banks,
We're nearly all alike at night.

Just find the wise professor when
He isn't lost in ancient lore,
And he, like many other men,
Romps with his children on the floor.
He puts his gravity aside
To share in innocent delight.
Stripped of position's pomp and pride,
We're nearly all the same at night.

Serving a common cause, we go
Unto our separate tasks by day,
And rich or poor or great or low,
Regardless of their place or pay,
Cherish the common dreams of men-
A home where love and peace unite.
We serve the self-same end and plan,
We're all alike when it is night.

Each for his loved ones wants to do
His utmost. Brothers are we all,
When we have run the workday through,
In romping with our children small;
Rich men and poor delight in play
When care and caste have taken flight.
At home, in all we think and say,
We're very much the same at night.

Edgar Albert Guest (1881-1959)