INITIATIVE AND ADAPTABILITY ARE A GREAT COMBINATION (NANCY LIEBERMAN)

The Coach Wooden Citizenship Cup is awarded annually to the most outstanding role models among athletes. In 2023 for the Professional Division Nancy Lieberman received one of these awards.
Nancy Lieberman is a true pioneer in women's sports. She was two-time collegiate national champion and a two-time National Player of the Year at Old Dominion University. Nancy has been a WNBA player and coach, a BIG3 Head Coach, the first woman to coach an NBA men's Development League team, a WNBA general manager, president of the Women's Sports Foundation, a sports broadcaster, and an author. She is a member of the Naismith Basketball Hall of Fame. She is the second woman in history to coach in the NBA, becoming the Assistant Coach for the Sacramento Kings in 2015. The Nancy Lieberman Award is given to the most outstanding female point guard in NCAA Division I Basketball.
Nancy Lieberman passionately guides youngsters and helps the disadvantaged. She created the Nancy Lieberman Charities to better support these young people. Nancy Lieberman Charities offers many programs for education and wellness. It provides college scholarships, laptops, Back-2-School backpacks, and basketball camps and clinics. It has built 84 Dream Courts across the nation to serve over 3.6 million children.
Nancy's amazing accomplishments are anchored in her character of taking initiative to recognize challenges when they arise and then being adaptable to resolve them. This is a great combination. In her book, "Playbook for Success" she described her experiences this way:
"You must be mentally strong, confident, and fearless. Sometimes, you have to be willing to push the envelope, to give yourself breaks. It's important to recognize that adaptability and flexibility create opportunities. Sometimes you must be willing to be adventurous, to get out of your comfort zone. You have to be willing to change your behavior, and even to be uncomfortable, at times, to be successful. You can't let fear paralyze you and create inner doubt. You must instead focus on what you can control."
Are you living a life full of "Initiative and Adaptability"?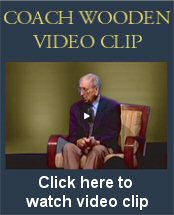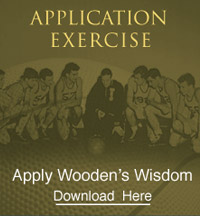 COACH'S FAVORITE POETRY AND PROSE
To A Little Girl
Oh, little girl with eyes of brown
And smiles that fairly light the town,
I wonder if you really know
Just why it is we love you so,
And why- with all the little girls
With shining eyes and tangled curls
That throng and dance this big world through-
Our hearts have room for only you.

Since other little girls are gay
And laugh and sing and romp in play,
And all are beautiful to see,
Why should you mean so much to me?
And why should Mother, day and night,
Make you her source of all delight,
And always find in your caress
Her greatest sum of happiness?

Oh, there's a reason good for this,
You laughing little bright-eyed miss!
In all this town, with all its girls
With shining eyes and sun-kissed curls,
If we should search it through and through
We'd find not one so fair as you;
And none, however fair of face,
Within our hearts could take your place.

For, one glad day not long ago,
God sent you down to us below,
And said that you were ours to keep,
To guard awake and watch asleep;
And ever since the day you came
No other child has seemed the same;
No other smiles are quite so fair
As those which happily you wear.

We seem to live from day to day
To hear the things you have to say;
And just because God gave us you,
We prize the little things you do.
Though God has filled this world with flowers,
We like you best because you're ours-
In you our greatest joys we know,
And that is why we love you so.

Edgar Albert Guest (1881-1959)