"ENCOURAGE INITIATIVE NOT DEPENDENCY." (MARGARET THATCHER)

Margaret Thatcher was a British politician and stateswoman who served as Prime Minister of the United Kingdom from 1979 to 1990. She was the first female British Prime Mnister and the longest-serving British Prime Mnister of the 20th century.
Margaret Thatcher, Abraham Lincoln and John Wooden believed as a leader (or parent) you should encourage initiative in others,not create dependency.
In a 1987 interview published in Woman's Own magazine, Thatcher made this idea clear when she defined her political philosophy:
"I think we have gone through a period when too many children and people have been given to understand "I have a problem, it is the Government's job to cope with it!" or "I have a problem, I will go and get a grant to cope with it!", "I am homeless, the Government must house me!" and so they are casting their problems on society and who is society? There is no such thing! There are individual men and women and there are families, and no government can do anything except through people and people look to themselves first. It is our duty to look after ourselves and then also to help look after our neighbor. Life is a reciprocal business and people have got the entitlements too much in mind without the obligations."
Abraham Lincoln wrote:
"You cannot bring prosperity by discouraging thrift. You cannot strengthen the weak by weakening the strong. You cannot help the wage earner by pulling down the wage payer. You cannot further the brotherhood of Man by encouraging class hatred. You cannot build character and courage by taking away a person's initiative and independence. You cannot help people permanently by doing for them what they could and should do for themselves."
John Wooden often used the Abraham Lincoln quote:
"The worst thing you can do for those you love is the things they could and should do for themselves."
Do you encourage initiative or create dependency?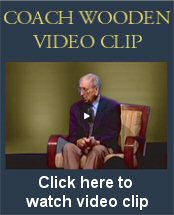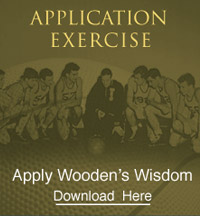 COACH'S FAVORITE POETRY AND PROSE
The Truth About Envy
I like to see the flowers grow,
To see the pansies in a row;
I think a well-kept garden's fine,
And wish that such a one were mine;
But one can't have a stock of flowers
Unless he digs and digs for hours.
My ground is always bleak and bare;
The roses do not flourish there.
And where I once sowed poppy seeds
Is now a tangled mass of weeds.'
I'm fond of flowers, but admit,
For digging I don't care a bit.
I envy men whose yards are gay,
But never work as hard as they;
I also envy men who own
More wealth than I have ever known.
I'm like a lot of men who yearn
For joys that they refuse to earn.
You cannot have the joys of work
And take the comfort of a shirk.
I find the man I envy most
Is he who's longest at his post.
I could have gold and roses, too,
If I would work like those who do.

Edgar Albert Guest (1881-1959)