"HOW TO BUILD A GREAT TEAM" (LIZ WISEMAN)

Liz Wiseman is a bestselling author, researcher, and elite leadership coach. Her New York Times bestseller Multipliers: How the Best Leaders Make Everyone Smarter is a must read. In her research of over 150 leaders worldwide, she discovered a process that the best team builders had in common. She describes it as "Genius Watching", which is an observation process great leaders use to find the "Native Genius" of individual team members. In her book, Wiseman described it this way:
"Great team builders know how to uncover and access the native genius of others. A native genius is something that people do, not only exceptionally well, but absolutely naturally. Finding someone's native genius propels them to go beyond what is required and offer their full intelligence.
Finding people's genius begins by carefully observing them in action, looking for spikes of authentic enthusiasm and a natural flow of energy. As you watch someone in action, ask the question: What do they do better than anything else they do?
Native genius can be so instinctive for people that they may not even understand their own capability. If people aren't aware of their genius, they are not in a position to deliberately utilize it. Tell people what you see. Raise their awareness and confidence, allowing them to provide their capability more fully."
In a call center I managed, we had a young lady, Jennifer, who chatted too much with co-workers while doing her data entry job. Her "Native Genius" was that she had an amazing personality. We made her aware of how dynamic she was (she didn't realize it as it came so naturally) and moved her to customer service. She ultimately ran the division.
John Wooden was great at uncovering "Native Genius". The cornerstones of the defense that led to his final National Championship in 1975 were Andre McCarter (a ball handling wizard) and Pete Turkovich (a former high-volume scorer). As a tandem, they became what John Wooden described as the best defensive backcourt he ever coached.
Are you using the "Native Genius" of your team members? Do you know what yours is?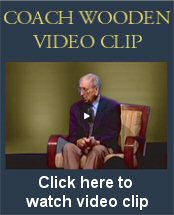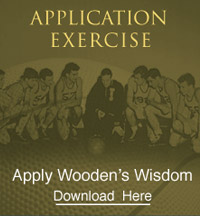 COACH'S FAVORITE POETRY AND PROSE
Story Telling
Most every night when they're in bed,
And both their little prayers have said,
They shout for me to come upstairs
And tell them tales of gypsies bold,
And eagles with the claws that hold
A baby's weight, and fairy sprites
That roam the woods on starry nights.

And I must illustrate these tales,
Must imitate the northern gales
That toss the Indian's canoe,
And show the way he paddles, too.
If in the story comes a bear,
I have to pause and sniff the air
And show the way he climbs the trees
To steal the honey from the bees.

And then I buzz like angry bees
And sting him on his nose and knees
And howl in pain, till mother cries:
'That pair will never shut their eyes,
While all that noise up there you make;
You're simply keeping them awake.'
And then they whisper: 'Just one more,'
And once again I'm forced to roar.

New stories every night they ask.
And that is not an easy task;
I have to be so many things,
The frog that croaks, the lark that sings,
The cunning fox, the frightened hen;
But just last night they stumped me, when
They wanted me to twist and squirm
And imitate an angle worm.

At last they tumble off to sleep,
And softly from their room I creep
And brush and comb the shock of hair
I tossed about to be a bear.
Then mother says: 'Well, I should say
You're just as much a child as they.'
But you can bet I'll not resign
That story telling job of mine.

Edgar Albert Guest (1881-1959)