"CHALLENGE DON'T DICTATE" (LIZ WISEMAN)

Liz Wiseman is a bestselling author, researcher, and elite leadership coach. In her New York Times bestseller, Multipliers: she researched over 150 leaders worldwide. In her book she gives numerous specific examples of great leaders who took John Wooden's proven method of "Challenge Don't Dictate" as a way of building great teams who constantly improve their performance. She describes the process this way:
"Great leaders use their smarts to find the right opportunities to challenge and stretch their organizations. They aren't limited by what they themselves know. They push their teams beyond their own knowledge and that of the organization.
If a leader holds the assumption that it is a leader's role to provide all the answers and if the employees resign themselves to this mode of business, a downward spiral naturally follows. Subordinates only act on the leader's answers.
Great leaders extend a clear and concrete challenge. Then they ask the hard questions that need to be answered to achieve the challenge, but, most importanly, they don't answer them. They let others fill in the blanks.
They ask the questions that challenge people not only to think but to rethink. They ask questions so immense that people can't answer them based on their current knowledge or where they currently stand. To answer these questions, the organization must learn."
John Wooden seldom called a time out when his teams weren't playing well. He challenged the players to correct the situation themselves. His teams constantly improved.
Coach Wooden did not dictate, browbeat, curse or yell at his teams to perform at an elevated level. He did seriously, sternly, and consistently challenge them for their best effort daily in everything. No detail went unnoticed. Individually his players constantly stretched to new personal bests.
Like the great leaders Liz Wiseman wrote about, John Wooden was not an "Answer Man Dictator" he was a "Coach Who Challenged You."
Which are you?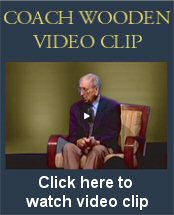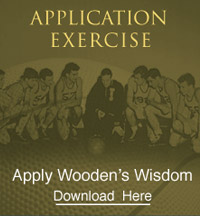 COACH'S FAVORITE POETRY AND PROSE
Division
You cannot gather every rose,
Nor every pleasure claim,
Nor bask in every breeze that blows,
Nor play in every game.

No millionaire could ever own
The world's supply of pearls,
And no man here has ever known
All of the pretty girls.

So take what joy may come your way,
And envy not your brothers;
Enjoy your share of fun each day,
And leave the rest for others.

Edgar Albert Guest (1881-1959)