"ACCOUNTABILITY REQUIRES CLEAR COMMUNICATION" (LIZ WISEMAN AND JOHN WOODEN)

Liz Wiseman is a bestselling author, researcher, and elite leadership coach. In her New York Times bestseller, Multipliers: she researched over 150 leaders worldwide. Liz Wiseman and John Wooden would both tell you that great leaders are able to create a team culture with accountability.
A good step in creating accountability is to ask the person you are assigning the task to tell you exactly what they understand their responsibility is.
It is also important that you establish you will not accept incomplete work. Liz Wiseman describes how she learned this lesson the hard way:
"I was six months into my first management job. It was 7:30 p.m., as I sat at my desk. The halls were dark, and all of my staff had gone home for the night. Everyone was home but me.
I was still busy trying to close out my "to dos" for the day, many of which had emerged during the workday as one little crisis after another landed on my desk. I came up from my absorption in my work and thought, Why am I still doing so much of the work?
I've delegated. Why does it all come back to me? People were bringing me their problems, and I would take them back. At this realization, I became irritated at my team for dumping the problems on me and for not doing their jobs. Then, alone in a dark office, I had the epiphany: I wasn't doing my job.
As a manager, my job was no longer about me. It was my responsibility to manage the work, not do the work. I had been solving problems like some overzealous superhero, when I was really supposed to help other people solve problems.
My job was to flow the work to my team and keep it there. It is an embarrassingly simple idea, but for me as a newly promoted manager, it was a startling realization."
John Wooden did not accept incomplete work.
Do you?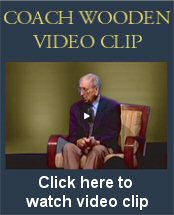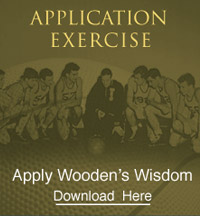 COACH'S FAVORITE POETRY AND PROSE
The Neighborly Person
Some are eager to be famous, some are striving
to be great,
Some are toiling to be leaders of their nation
or their state,
And in every person's ambition, if we only understood,
There is much that's fine and splendid; every
hope is mostly good.
So I cling unto the notion that contented I
will be
If the people upon life's pathway find a needed
friend in me.

I rather like to putter 'round the walks and
yards of life,
To spray at night the roses that are burned and
browned with strife;
To eat a frugal dinner, but always to have a
chair
For the unexpected stranger that my simple
meal would share.
I don't care to be a traveler, I would rather be
the one
Sitting calmly by the roadside helping weary
travelers on.
I'd like to be a neighbor in the good old-fashioned way,
Finding much to do for others, but not over
much to say.
I like to read the papers, but I do not yearn
to see
What the journal of the morning has been
moved to say of me;
In the silences and shadows I would live my
life and die
And depend for fond remembrance on some
grateful passers-by.

I guess I wasn't fashioned for the brilliant
things of earth,
Wasn't gifted much with talent or designed for
special worth,
But was just sent here to putter with life's little
odds and ends
And keep a simple corner where the stirring
highway bends,
And if folks should chance to linger, worn and
weary through the day,
To do some needed service and to cheer them
on their way.

Edgar Albert Guest (1881-1959)