"VALUE THE TIME OF OTHERS AS MUCH AS YOUR OWN"

John Wooden was legendary for his time management skills.
As a leader,Coach Wooden placed a tremendous value on the time of his players. With great planning he limited the amount of time his players were required to spend with him. As a result, he was able to demand and receive a high level of quality effort during that time. This resulted in their consistent high level of quality effort during games.
People will do what they do often based on repetition, not on what they heard in a meeting. Coach Wooden put it this way: "I didn't believe in and didn't have a lot of meetings and things of that sort. I wanted short corrections during the practice session."
During the summer prior to the upcoming season Coach sent each returning team member a letter, which outlined his expectations and strategic vison for the upcoming season.
One week before practice began, he had a 45-minute team meeting during which the players received three one-page handouts which specifically defined the behaviors he expected with regard to their studies, basketball practice and behavior off the court.
The players were expected to be on the court at 3 P.M. for thirty minutes of "Individual Attention" during which they would work on their own or with coaches (individually or in small groups) on specific issues. As a side note, Coach Wooden was always sitting courtside at 2:30 in case a player wanted to stop by and discuss anything.
Team Practice began at 3:30 P.M. and never ended later than 5:30 P.M.regrdless of how things were going. The drills were precisely timed. If a drill wasn't going well Coach did not make it longer. Coach Wooden did not go off topic.
Coach Wooden valued the time of his players, so they valued his.
Do you value the time of your team members?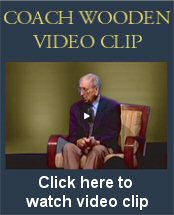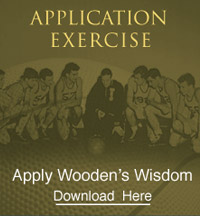 COACH'S FAVORITE POETRY AND PROSE
The Kick Under The Table
After a man has been married awhile,
And his wife has grown used to his manner
And style,
When she knows form the twinkle that lights
Up his eye
The thoughts he is thinking, the wherefore and
Why,
And just what he'll say, and just what he'll do,
And is sure that he'll make a bad break ere he's
Through,
She has one little trick that she'll work when
She's able-
She takes a sly kick at him under the table.

He may fancy the story he's telling is true,
Or he's doing the thing which is proper to do;
He may fancy he's holding his own with the
Rest,
The life of the party and right at his best,
When quickly he learns to his utter dismay,
That he mustn't say what he's just started to say.
He is stopped at the place where he hoped to
Begin,
By his wife, who has taken at kick at his shin.

If he picks the wrong fork for the salad, he
Knows,
That fact by the feel of his wife's slippered toes.
If he's started a bit of untellable news,
On the calf of his leg there is planted a bruise.
Oh, I wonder sometimes what would happen to
Me
If the wife were not seated just where she
Could be
On guard every minute to watch every trick,
And keep me in line all the time with her kick.

Edgar Albert Guest (1881-1959)