"GOOD MEETINGS AND BAD MEETINGS"

Proper Planning, which requires meetings, and excellent time management are necessary for any organization to reach its potential. Using two of Coach Wooden's principles: "Failing to prepare is preparing to fail." and "Don't mistake activity for achievement." as a foundation is a good starting point.
During the season, Coach Wooden met with his staff for two hours each day to carefully plan his two-hour practices. The meetings always started on time and ended on time and there were no non-emergency interruptions.
One week before practice began, he had a 45-minute team meeting during which the players received three one-page handouts which specifically defined the behaviors he expected with regards to their studies, basketball practice and behavior off the court.
He had few if any team meetings with the players after that. Coach Wooden put it this way: "I didn't believe in and didn't have a lot of meetings and things of that sort, I wanted short corrections during the practice session."
During practice, he would introduce a new play to the team as a unit. He described his follow-up methods this way:
"I learned to be concise and quick. I didn't string things out. The first time a mistake was made I might stop the group as a whole and make a correction. Following that, I never stopped the group. I took the person out and talked to him alone."
If a sales organization wanted to implement a more conservative discounting strategy, this would require careful planning in staff meetings. Then to introduce the plan they would meet with the salespeople as a team.
If it became apparent certain salespeople were not following the policy, Coach Wooden would not call another team meeting to rant and rave at the group about the importance of following the procedures.
Coach Wooden would immediately meet with the individual salespeople who were not following the procedures and get them on track.
Are you having unnecessary team meetings?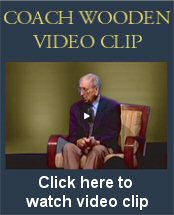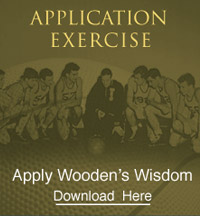 COACH'S FAVORITE POETRY AND PROSE
Easy Service
When an empty sleeve or a sightless eye
Or a legless form I see,
I breathe my thanks to my God on High
For His watchful care o'er me.
And I say to myself, as the cripple goes
Half stumbling on his way:
I may brag and boast, but that brother knows
Why the old flag floats to-day.

I think as I sit in my cozy den
Puffing one of my many pipes
That I've served with all of my fellow men
The glorious Stars and Stripes.
Then I see a troop in the faded blue
And a few in the dusty gray,
And I have to laugh at the deeds I do
For the flag that floats to-day.

I see men tangled in pointed wire,
The sport of the blazing sun,
Mangled and maimed by a leaden fire
As the tides of battle run,
And I fancy I hear their piteous calls
For merciful death, and then
The cannons cease and the darkness falls,
And those fluttering things are men.

Out there in the night they beg for death,
Yet the Reaper spurns their cries,
And it seems his jest to leave them breath
For their pitiful pleas and sighs.
And I am here in my cosy room
In touch with the joys of life,
I am miles away from the fields of doom
And the gory scenes of strife.

I never have vainly called for aid,
Nor suffered real pangs of thirst,
I have marched with life in its best parade
And never have seen its worst.
In the flowers of ease I have ever basked,
And I think as the Flag I see
How much of service from some it's asked,
How little of toil from me.

Edgar Albert Guest (1881-1959)