"PEAK PERFORMANCE REQUIRES PROPER PLANNING."

In a group endeavor, a key part of "Proper Planning" is having effective meetings. Unfortunately, leaders are not always properly trained on the fundamentals of how to properly run a meeting. If you are in a position of leadership, I would highly recommend you read: "Death By Meeting" by Patrick Lencioni.
I implemented the ideas of this book into a company I had been running for ten years and our growth, creativity and efficiency improved exponentially in the next five years.
The very basic principles are:
Meetings start and stop on time. If a meeting is at 10 a.m., all attendees should be seated and ready to go at 9:55 a.m. We start at 10 with whoever is there.
The agenda for the meeting should be distributed a minimum of three days in advance. If it is a meeting where you are asking for input, the topics and agenda should be distributed at least seven days in advance.
In a collaborative meeting, great leaders talk 20% of the time and listen 80% of the time. The leader's role is to spark debate not come up with answers.
All action items that are a result of the meeting are assigned with deadlines before the end of the meeting.
Here are four (4) different recurring meetings types to consider and spark ideas:
The Daily Check In
The Weekly Tactical
The Monthly Strategic
The Quarterly Off-Site Review
Review the attached PDF for the details.
View PDF
All this is meaningless if the leader makes participants feel that there will be repercussions implied or otherwise if participants directly or indirectly disagree with the leader's point of view. Participants must also not feel that if their idea fails it will be held over their head in the future.
You can't function as a team member if you are following in fear.
Do your team members follow in fear?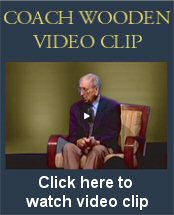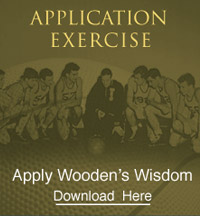 COACH'S FAVORITE POETRY AND PROSE
So Easy
So easy to say what another should do,
So easy to settle his cares,
So easy to tell him what roads to pursue,
And dispose of the burdens he bears.
It is easy to bid him be brave and strong,
And to make all his shortcomings known;
But O, it's so hard when the care and the wrong
And the dangers we face are our own.

It is easy to stand in another man's place,
When our comforts of life are assured,
And the sting of the rain beating sharp in his face
By him must be bravely endured.
It is easy to tell him the path he should take
And to bid him to laugh at his care,
But O, it's so hard when it's our hearts that ache
And we have the burdens to bear.

We all know the things that another should do,
His faults are like books on our shelves,
We can ponder them over and read and review,
But we haven't a book on ourselves.
We can settle the other man's troubles each day,
His griefs we can calmly discuss,
It is easy to sweep all his troubles away,
But we can't do the same thing for us.

The need of another it's easy to see,
When our own wants are all satisfied,
And bold and courageous it's easy to be
When it isn't our souls that are tried.
But O, it's so hard when we're stumbling along
To keep ourselves steadfast and true;
It is easy to tell someone else to be strong,
It's easier to talk than to do.

Edgar Albert Guest (1881-1959)