"IT'S NOT NECESSARILY ABOUT YOU." (LIZ WISEMAN AND JOHN WOODEN)

Liz Wiseman is a bestselling author, researcher, and elite leadership coach. In her New York Times bestseller, Multipliers: she researched over 150 leaders worldwide.
Liz Wiseman and Coach Wooden both agree that the ability to not let others cause you to lose your self-control is important.
In her book, Wiseman describes how to deal with a difficult boss, who she refers to as a "diminisher":
"It's not necessarily about you. Although you are the one feeling the pain, your actions aren't necessarily the root cause. The Diminisher's behavior is more likely a function of the pressure they feel from above or the residual effects of ineffectual role models from their past. But, at the same time, it is entirely possible that your reactions to the Diminisher are inflaming the situation."
When you receive undo criticism, immediately say to yourself: "This is not about me." This simple self-talk will calm you down and allow you to focus on what is being said, not how it is being said.
Wiseman continued her advice this way:
"Instead of responding with criticism, respond with intellectual curiosity. Take the other person's perspective and ask questions like: Why are they worried? What do they need from me to feel confident? What is causing this behavior?
Listen to understand the source of tension. With ego set aside, you might find yourself noticing and appreciating the other person's strengths or feeling less angry."
Coach Wooden described the importance of this skill:
"Your strength as a person will be the way you react to both praise and criticism. If you overreact to either one, it will have a negative effect, not a positive one."
How do you react to criticism?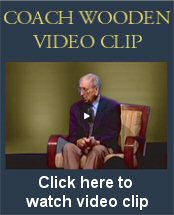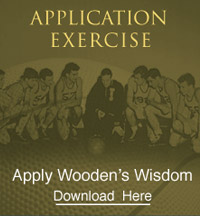 COACH'S FAVORITE POETRY AND PROSE
A Discussion
She put her arms about my neck,
And whispered low to me:
'I'm thinking daddy, dear, how nice
And lovely it would be
If only every little girl
In all this wide world through
Had daddies that were just as nice
And kind and good as you.'

And then I took her in my arms
And held her on my knee
And said: 'A nicer, brighter world
I'm sure that it would be
If only every grown-up man
Beneath the skies of blue
Were daddy to a little girl
As nice and sweet as you.'

Edgar Albert Guest (1881-1959)